Autism Spectrum Disorder (ASD) is a lifelong neurodevelopmental disorder which encompasses deficits in social communication and interactions, as well as repetitive and restrictive behavior. HBKU Press's online, open-access platform, QScience.com, sheds light on the correlations with and the prevalence of Autism through multiple studies published from the Qatar Foundation Annual Research Conference Proceedings. These studies, as well as other relevant articles, are collected into a new feature in which publications about a specific subject are readily available in one place to allow for more focused research.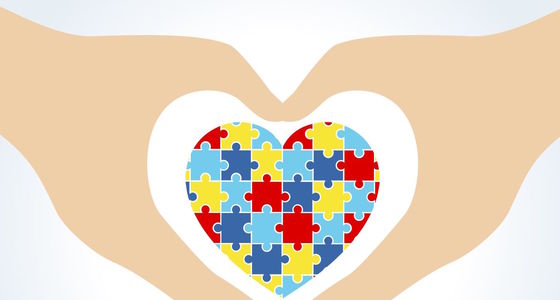 The World Health Organization (WHO) revealed that the global median rate for Autism prevalence is approximately 62 per 10,000 (2014). Thus, in a study titled "The use of Arabic version of Social Communication Questionnaires (SCQ) in School Screening for Autism Spectrum Disorder (ASD) in Qatar," researchers Fouad Alshaban and Eric Fombonne et al. (from Hamad Bin Khalifa University and Oregon Health & Science University) examined the prevalence rate of ASD in children between the ages of five and 12 years old.
Various diagnostic surveys were used to detect levels of ASD in children attending local primary schools. Results showed that out of the total population surveyed, a significant number of children did indeed show significant levels of ASD, demonstrating the presence of the Autistic population in Qatar. The findings of this study provide insight which can be used to better the planning for providing the health care facilities needed to detect and manage this disorder.
In another study titled, "Neuroscience and Interior Architecture: Impact on Autism," Mohamed Cherif Amor (from Virginia Commonwealth University-Qatar) and Ahmed Elsotouhy (a neurologist at Hamad General Hospital) used an experimental design with two aims: firstly, to compare behavioral and neural responses of autistic subjects exposed to three types of fluorescent lighting, and secondly, to investigate the impact of different color temperatures on brain regions that have minimal neural activity for people with Autism.
The results stress how fluorescent lighting among indoor environmental variables (i.e., noise, ambient temperature, and air quality) play a critical role in nurturing daily activities for the people with normal brains, but this is not the case for those with different brain functions. Autistic subjects are actually more distracted under fluorescent lighting, as the lighting generates agitation, hyperactivity, stress, and weaker cognitive skills – this consequently contributes to negative health and performance.
In the experiment at hand, a selection of autistic subjects underwent a series of brain scans at Hamad Medical Center and were asked to evaluate certain images. These participants resided in Doha, Qatar and were recruited through a collaboration with Shafallah Center for Children with Special Needs. Specifically to Qatar, this study strives to develop a foundation of neuro-behavioral evidence that is crucial to further develop the growing institutions for the intellectually challenged in Qatar.
In another 2016 study, "Kids Channels Cause of Autism Spectrum and Leaving the Child Less than Two Years for Television is a Crime," Mohammad Zaki Hassan emphasizes the importance of early childhood learning through repetition and interactions. It is stated that "repetition is the basis of learning," indicating that a person retains the most information when it is continuously repeated. Children who watch television are automatically exposed to repeating sounds, shapes, colors, and sizes. This exposition lays the foundation for how a child's senses are developed, namely those of sight and sound.
To read more click
here
.