Lilas Taha, the Hamad Bin Khalifa University Press (HBKU Press) author of the award-winning book Bitter Almonds, visited Qatar Academy – Doha (QA) campus yesterday to speak to Year 9 and Year 12 students about her inspirations and the overall importance of literacy.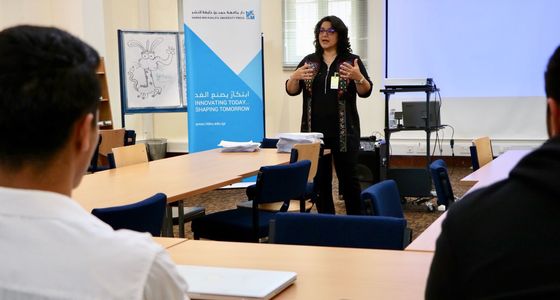 The event was organized by HBKU Press. In addition to their work as world-class publishers, HBKU Press is committed to serving the greater community in which it resides through various outreach programs. HBKU Press proudly hosts information sessions, academic, literary and artistic workshops, and training and development courses that help aspiring authors in any field break into the publishing world and establish a love of reading and writing in the community at a young age.
Taha's discussion with the students focused on her inspiration for writing. The engineer-turned-writer was born in Kuwait to a Syrian mother and a Palestinian father, and immigrated to the U.S. following the Gulf War. Pursuing her true passion for creative writing, Taha brings her professional interests and social background together in her novels.
Bitter Almonds was the winner in the "Fiction: Multicultural" category of the 2017 International Book Awards(IBA). Set in Damascus, Syria, in the tumultuous decades of the 1960s and 1970s, Bitter Almonds follows the coming-of-age of two young refugees as they encounter political turmoil and personal sacrifice.
Omar is an orphaned Palestinian born into chaos and displaced by violence, whose life has been shaped by forces beyond his control. As he tries to find his place in the world, his future becomes even more complicated when he falls for Nadia, the daughter of the refugee family who raised him. Amid the confusion and instability of a modernizing world, Omar has only one thing to hold on to: a love that gives him hope and propels him forward.
While Omar searches for the right path, Nadia is maturing into womanhood, forced to shed her youthful idealism and learn to cope with the tough realities of her world. But a cruel load thrust upon her by her selfish brother threatens her chances of breaking out of her traditional social mould to create her own destiny.
Moving and compelling, Bitter Almonds explores displacement and exile, family duty and honour, and the universal feelings of love and loss. At the core of this novel is the dauntless human spirit and the complex struggles of ordinary people trying to overcome extraordinary circumstances.
Bitter Almonds will be released in Arabic by HBKU Press during Taha's visit to Doha. Taha is also working on her second novel with HBKU Press which will be released in the near future.
To read more, please click
here
.