Hamad Bin Khalifa University (HBKU) hosted a seminar highlighting the history and evolution of the Qatari legal system, in conjunction with a delegation of legal scholars visiting Qatar from De Montfort University (DMU) based in Leicester in the United Kingdom. The seminar, which was held this past Tuesday, was in close partnership with HBKU's College of Law and Public Policy (CLPP).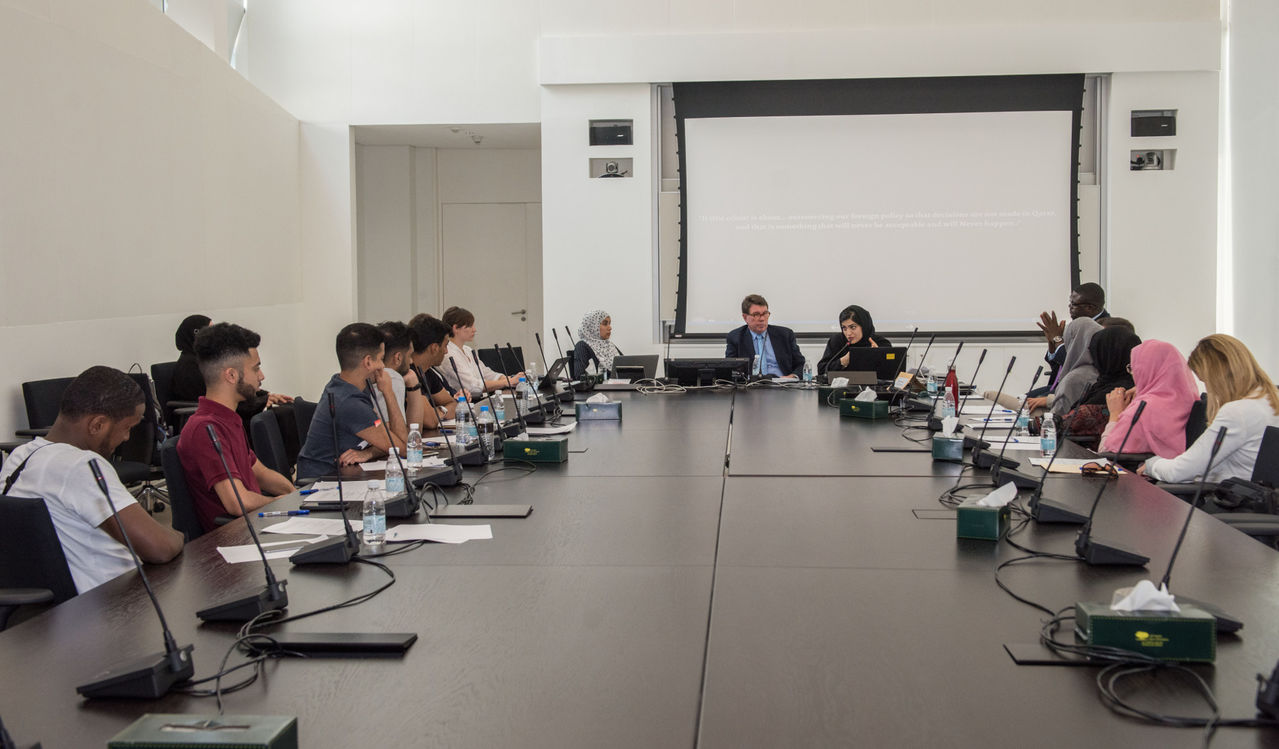 Focusing on the various factors that contributed to the formation and the continuous progression of the Qatari legal system, ranging from culture, norms and religion to economics, globalization and human development, the seminar analyzed current regional developments the country's legal framework at-large.
The talk highlighted the legal aspects of the current political situation in the region, using a multifaceted lens to analyze Qatar's mature stance on the crisis. In this first-of-its-kind event at CLPP, participants had the chance to speak candidly, not only about the legality of the matter, but also about geo-political ramifications in relation to food security, travel and movement, economics and beyond.
DMU's delegation of legal scholars, who are scheduled to be in Qatar for one week, consisted of nine students and two faculty members – Dr. Rajnaara Akhtar and Dr. Kate Wilkinson Cross – from within the field of business law. By collaborating together with DMU, another leading global research institution, HBKU continues to remain a hub for sharing ideas that shape the professional leaders of tomorrow, and to help achieve Qatar's sustainable development goals.
Dr. Reem Al-Ansari, who is the associate dean of graduate studies at Qatar University's College of Law, led Tuesday's seminar. Also serving as a visiting professor at HBKU's CLPP and teaching within the Juris Doctor (JD) program, Dr. Al-Ansari engaged the DMU and CLPP attendees with a presentation on Qatar's rich history and the advancement of its exceptional legal system. The presentation also examined how this legacy has enabled the country to successfully overcome local and international legal challenges that arise from the current-political developments.
As a part of the award-winning #DMUglobal program, which aims to give DMU students an international experience to complement and enhance their studies, students and faculty from DMU and CLPP were given the opportunity to engage in a lively discussion about the field of legal in the country, and expose themselves to Qatari culture and tradition.
To learn more about HBKU and its various colleges and programs, visit
hbku.edu.qa
.
To read more, please click
here
.