Building upon her graduate studies at Hamad Bin Khalifa University's (HBKU) College of Humanities and Social Sciences (CHSS), Sarah Saad, a Class of 2017 alumna, today continues to be mindful of individuals with special needs as she works to improve their living standards in Qatar. At present, Saad is focusing her efforts on developing her university capstone project – the creation of inflight safety information that seeks to transform the travel experience of passengers who suffer from sensory loss, especially blindness.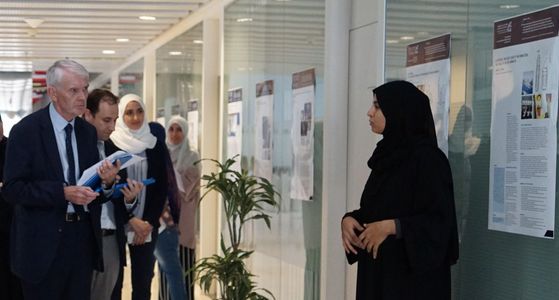 Her latest project involves further development of a multisensory safety kit Saad worked on while pursuing her studies at HBKU. The kit aims to serve travelers with special needs, and comes inclusive of a model life vest, an oxygen mask replica as well as instructions in braille and a sound player that emits an audio description. This unique project has important relevance for the aviation industry as airliners around the world continuously innovate on the practices and mechanisms in place to improve the travel experience of passengers flying with impairments.
Audiovisual translation has become a valuable tool in the trans-adaptation of messages to suit the needs of users of the most diverse profiles. For people with sensory disabilities, audiovisual translation for access provides a number of new channels of communication that help them gain access to information, using the format that suits their personal profiles and needs.
This is particularly the case for individuals with sensory loss, and especially the blind, which is why Saad's research aimed to understand the needs of blind travelers when flying. Her project involves determining if the information provided inflight is adequate, and finally developing an audio-tactile information kit for blind travelers, before moving on to validate the new approach to inflight information with the aviation industry for blind travelers.
The program is delivered by the college's Translation and Interpreting Institute (TII) to train specialists in the mediation of audiovisual texts, both for foreign-language viewers and sensory-impaired audiences. Graduates of the program are equipped to master the practical and technological skills required for a career in subtitling, dubbing, voice-over, subtitling for the hard-of-hearing and audio description.
Following her involvement in special trans-adapted screening projects during Ajyal Youth Film Festival 2016 and 2017, Saad developed an interest in assistive support for people with special needs. Today, she serves her alma mater in a professional capacity at CHSS's Translation and Training Center.