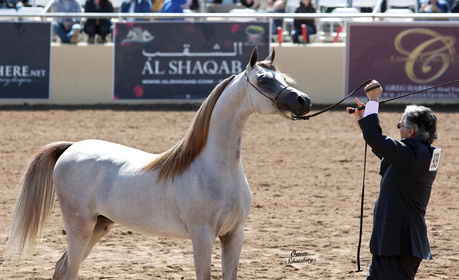 Al Shaqab has participated at The U.S. National Arabian & Half-Arabian Championship Horse Show in the city of Tulsa, Oklahoma, where the US Nationals were held during eight days.
The U.S. National Arabian & Half-Arabian Championship Horse Show, held annually at Tulsa's Expo Square, is the most prestigious Arabian horse show in North America. Participating in the championships were the finest riding Arabian horses in North America and a selection of the best professional riders to win the title in several competitions.
Al Shaqab participated with only one horse at the Riding Genuine Arab Championship, and the championship ended with Hariri Al Shaqab (Marwan Al Shaqab / White Silkk) winning the Champion three-year old Colt title.
Al Shaqab is getting ready to participate at the World Arabian Horse Championships which are being held at Salon du Cheval from 30 November to 1 December 2013, in Paris, France.
About Al Shaqab
The Father Emir Sheikh Hamad Bin Khalifa Al Thani established Al Shaqab in 1992 to preserve and promote the Arabian horse breed in the state of Qatar Under the wise leadership of His Excellency Sheikh Mohammed Bin Hamad Bin Khalifa Al Thani, Chairman of Al Shaqab.
Al Shaqab includes Breeding and Show, Endurance and The Riding Academy.
To find out more about events at Al Shaqab, please
click here
.