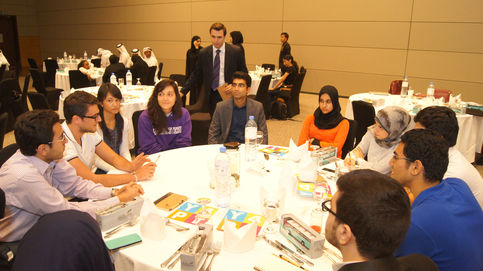 Hamad bin Khalifa University (HBKU) and Mowasalat hosted a workshop to discuss sustainable solutions to public transport and citizen responsibilities. The event, titled 'Planning and Promoting the Use of Public Transport in Qatar', took place on Sunday 3 November and was attended by students from across Qatar Foundation in addition to students and faculty from Qatar University.
Mowasalat is taking several initiatives to promote citizen responsibilities for a sustainable future and greener environment, extending its commitment to realize the National Vision 2030 and following the four pillars.
The event's program was executed by the youth and for the youth with participation and presentations by HBKU and Qatar University students.Mowasalat facilitated the program by bringing in the Director of the International Association of Public Transport's Youth for Public Transport (UITP Y4PT) to share her experience and ideas from past programs held across and outside of the region.
Transformation from single occupant vehicle transportation to mass transit will not happen on its own.Growth of ridership and usage of mass transportation will happen gradually by positively changing the public perception, removing hurdles and through giving mass transport options priority on roads.
Mowasalat wants to set high standards in public transport services through embracing innovation and technology, including alternate green gas fuel solutions.In addition, Mowasalat aims to provide varied transportation options for customers to both choose and enjoy, ultimately helping reduce congestion and pollution for an improved lifestyle.
Growth and usage of public transport should be proportionate to growing urbanization and population.Single occupant vehicle transportation will cause traffic woes, congestion, and pollution and will have a negative impact in economic growth and quality of life.
HBKU Student Center continues to plan for more programs to engage with community partners.
For the full story, please
click here
.