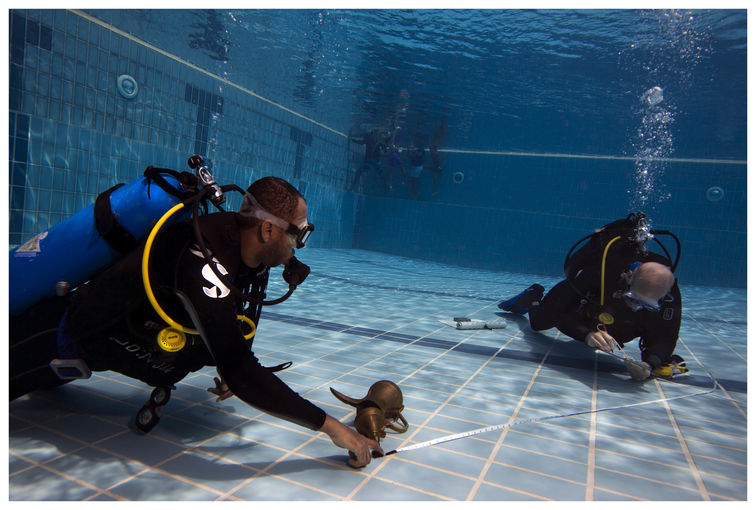 The first formally accredited maritime archaeology course to ever be held in the Gulf region has taken place at UCL Qatar. The intensive two week course, with a particular focus on maritime archaeology in the Arabian Gulf, provided students with an overview of the principles and practices of maritime archaeology.
The pioneering program was conducted between 30 March and 10 April 2014 under the tutorship of Dr Lucy Blue, Maritime Archaeology Stewardship Trust MAST University of Southampton and Dr John Cooper, University of Exeter.
A highly specialized course, it attracted individuals from within Qatar, the wider Gulf region and internationally.
In addition to students from the MA Archaeology of the Arab and Islamic World degree program at UCL Qatar, invitations to join the course were accepted by employees from the Ministry of Heritage and Culture of the Sultanate of Oman, together with Italian archaeologist Lorena Giorgio and members of the University of Birmingham Underwater Survey team working in Qatar conducting surveying for Qatar Museums Authority.
The course highlighted the key theoretical perspectives and addressed the way in which archaeological sites in the coastal zone are managed and protected. In order to gain first hand training in the documentation and drawing of maritime vessels, students spent a day and a half working on the extensive and rare collection of traditional boats belonging to the future National Museum of Qatar, with the help of staff of the National Museum.
The archaeological potential of some of the major site types were also considered, including shipwrecks, boats, harbors, submerged settlements and maritime ethnography, and practical tuition were offered in survey, ethnography and heritage management.
Underwater survey training was carried out in a large swimming pool, with students taught the techniques of underwater documentation in a controlled environment. The final day was spent in the field undertaking a coastal management assessment of the site of Fuwairat and visiting the World Heritage site of Zubarah.
To read the full article on UCL Qatar's website, please
click here