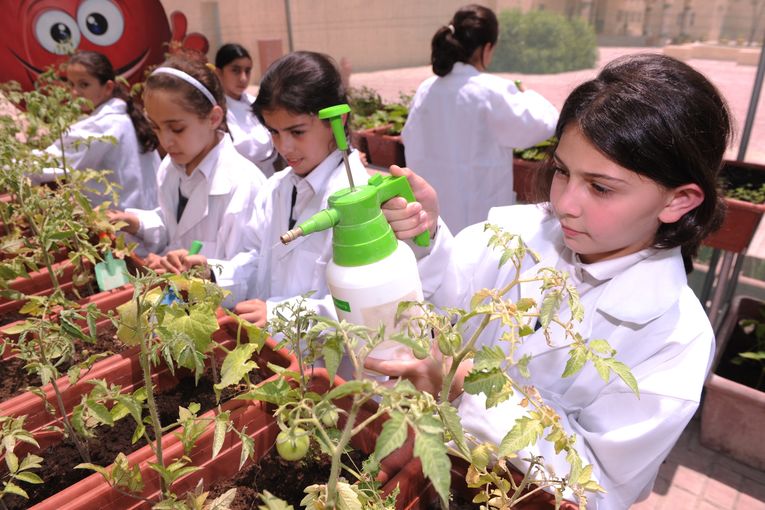 A harvest of fresh fruit, vegetables and salad plants has helped teach green-fingered students more about the benefits of eating healthily in Weill Cornell Medical College in Qatar's (WCMC-Q) Greenhouse Initiative.
The initiative was part of WCMC-Q's Sahtak Awalan - Your Health First campaign and saw greenhouses, plant pots, seeds and compost given to 15 primary schools across Doha. The students at the schools were then challenged to grow the best produce they could. The aim was to teach children about fresh, healthy food and to encourage them to eat more fruit and vegetables.
The judging has now been done and the pupils of Nosaiba Bint Kaab Girls Primary were found to have grown the best crops. Students at Safiya bint Abdul Muttalib School, and Al Quds Model Independent School for Boys were second and third respectively.
But the girls of Nosaiba Bint Kaab came out on top with all their plants providing a bumper harvest. They even managed to get three crops out of some of the plants like parsley, coriander and arugula as well as getting lots of helpings of tomatoes, peppers, and eggplants.
Nesreen Al-Rifai, Director of the Department of Government and Public Affairs at WCMC-Q, said: "Our health is one of the most valuable gifts we have and we need to take care of it. A health survey in 2012 showed that more than 90 per cent of people in Qatar do not eat the recommended daily amount of fruit and vegetables."
For the full story, please
click here
.