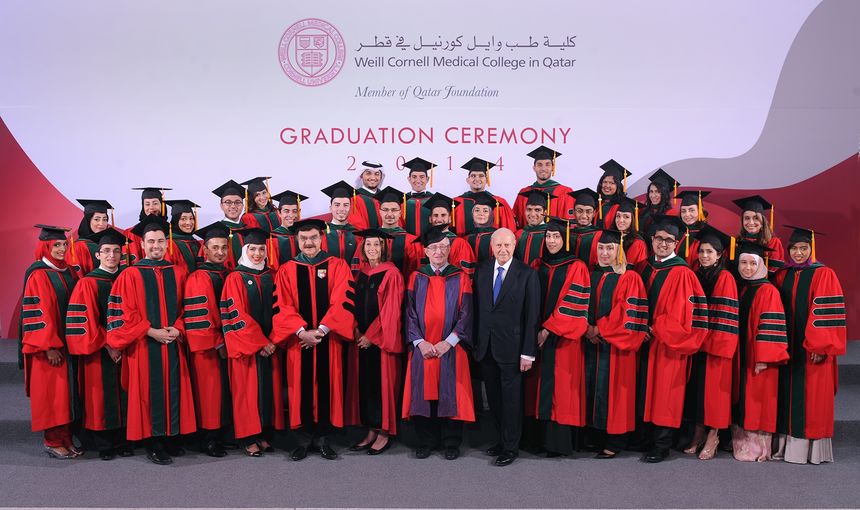 The latest graduates of Weill Cornell Medical College (WCMC-Q) in Qatar have been presented with their MD degrees in front of an audience of family and friends.
In all, 34 students received their degrees, and can now officially call themselves 'doctor' for the first time. The graduates will now go on to their residencies at hospitals in the US and Qatar, or take up research positions.
The 34 new doctors are made up equally of 17 women and 17 men. Between them they represent 13 different countries, with four of the graduates coming from Qatar.
Student speaker and Class of 2014 graduate Dr Mouhamed Yazan Abou-Ismail said he and his peers were the future of medicine.
Dr Abou-Ismail said: "From now on, we are responsible not only for the lives of others, but for the changing shape and nature of medicine itself.
"From now on, we can no longer blame misfortunes on the system – we have become part of it and must work hard to make that system better. And with every step, we must remain true to our profession, generate new knowledge, and pass it on to the younger generations who will fill the seats we once filled."
Along with receiving their US-accredited MD degrees – Cornell University is the only American institution to offer its MD degree overseas – the students also recited the Hippocratic Oath.
For the full story, please
click here
.