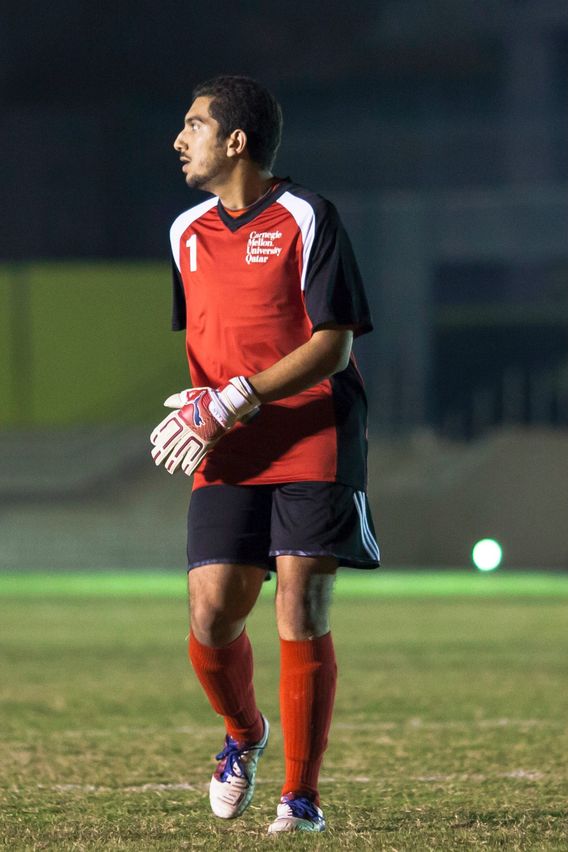 As Qatar continues to nurture an active sporting culture, students graduating from universities within Qatar Foundation say that participating in team sports has helped enrich their overall academic experience.
In 2010, Saleh Al-Raisi joined Carnegie Mellon University in Qatar (CMU-Q) and decided to try out for the football team. Being an avid football player, the 21-year-old Qatari enjoyed sports from a young age and was keen to join his school's tournaments.
In 2012, Saleh joined his teammates in accepting the Hamad bin Khalifa University League Title and that same year, the team's perseverance helped them achieve an impressive rank, placing second in the Ministry of Interior Universities Cup.
On a personal level, Saleh has done exceptionally well both on and off the field. He credits sport for playing a fundamental role in developing his leadership skills and self-confidence.
The high-achieving student was recently recognized for his extensive contribution to university life by being awarded the CMU-Q 'Senior Student Leadership Award 2014' with distinction, and the Business Senior Leader 2014 award. Saleh also had the privilege to represent his class by speaking at the CMU-Q graduation ceremony, where he received a Bachelor of Science in Business Administration.
Another outstanding graduate who is eager to highlight the merits of sport is Tala Mohammed Hammash, aged 22. The star basketball player has also garnered impressive academic and athletic achievements that showcase her fortitude, intelligence, and determination.
Over the past four years at Georgetown University – School of Foreign Service in Qatar (SFS-Qatar), the Palestinian student has made a remarkable effort to balance her studies and extracurricular activities. Her success has resulted in well-deserved recognition, which includes the Qatar Foundation/Hamad bin Khalifa University All-Star Female Athlete award for three years, as well as the Georgetown Scholar-Athlete Award in 2014.
This year, Tala was nominated as Captain of the Georgetown Women's Basketball team and felt very lucky to be a part of a cohesive group that functioned well as a unit. "I think a leader is just a facilitator that encourages everyone to do their best, and basically he or she does that for the better achievement of results."
Tala's dedication to academic excellence has also paid off. She has graduated with honors, and holds a Bachelor of Science in Foreign Service, Culture and Politics; with a minor in American Studies from SFS-Qatar. She hopes to gain work experience in Qatar for a few years before pursuing her postgraduate studies in international education.
For the full story, please
click here
.