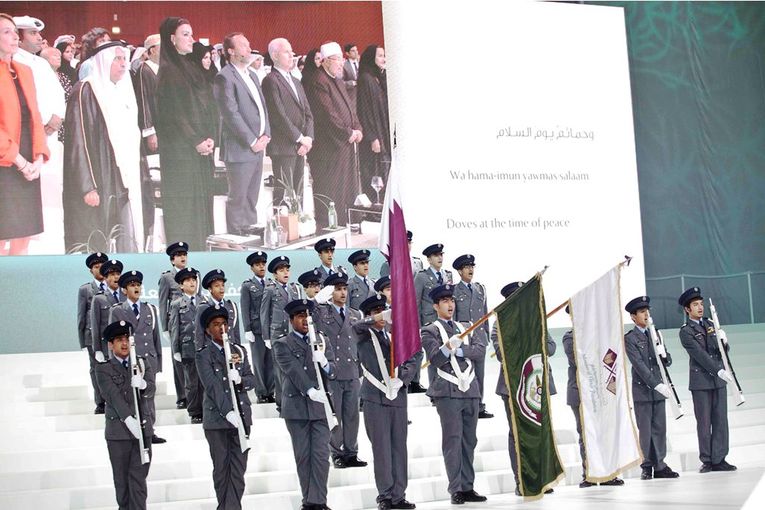 In an impressive display of triumph and achievement, 437 graduates from Qatar Foundation for Education, Science and Community Development came together at Convocation 2013 to celebrate their steadfast commitment to lifelong learning.
The ceremony, which was held at Qatar National Convention Centre (QNCC) under the patronage of Her Highness Sheikha Moza bint Nasser, Chairperson of Qatar Foundation, demonstrates the nation's innovative approach to developing a knowledge-based economy.
As the elated graduates walked side by side into QNCC's grand hall, proudly donning their graduation caps, gowns and tassels, they prepared themselves for a bittersweet night as they bode farewell to their fellow classmates and teachers, to embark upon a new chapter in their lives.
Her Highness Sheikha Moza shared powerful words of wisdom with the graduates, calling on them to continue their pursuit of excellence and achievement. "When I look at you, I feel confident that you graduates are capable of transforming our world and ushering in long-lasting change."
The class of 2013 signifies the highest number of graduates in Qatar Foundation's history, with 437 students from over 60 countries participating in this year's convocation. The number of graduates this year is considerably higher compared to 2012 when 373 students were awarded degrees. The gender gap has also shifted in favour of females this year, with 229 women and 208 men making up the class of 2013. In 2012, 188 women and 185 men made up the class of 2012.