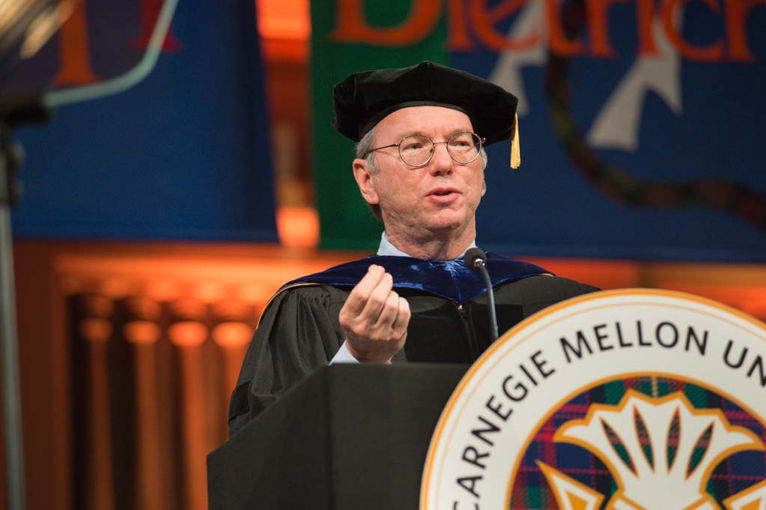 Google's executive chairman and former Carnegie Mellon Trustee, Eric Schmidt attributed his success as a computer scientist and also the invention and progression of the industry to Carnegie Mellon University's global leadership and innovation.
Schmidt delivered a keynote speech at the official inauguration of the ninth president of Carnegie Mellon, Subra Suresh. Referring to Carnegie Mellon as a "mythical place of achievement," Schmidt went on to comment on the institution's leading role in promoting research, technology and innovation.
The official investiture held on 15 November in Pittsburgh was shown at a screening for the Carnegie Mellon Qatar community.
Reflecting the inaugural theme 'Crossing Boundaries, Transforming Lives'
Suresh's address highlighted his personal journey, which he likened to that of the university's founder Andrew Carnegie. "I left my family and travelled across oceans, crossing boundaries to make a future for myself in an unknown land," Suresh said.
His words resonated with students and faculty at Carnegie Mellon Qatar, many of whom have travelled from around the globe to contribute to Qatar's development.
Suresh emphasized past achievements and the promise of a strong network of global campuses and alumni, and welcomed fresh challenges ahead.
Earlier this month, Suresh became the first Carnegie Mellon faculty member to be appointed as a member of all three US national academies. These entities provide expert advice on pressing challenges facing the world: The Institute of Medicine, National Academy of Sciences and the National Academy of Engineering.
For the full story, please
click here
.