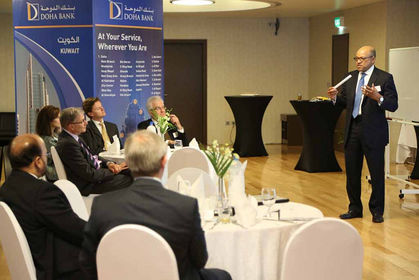 Georgetown University – School of Foreign Service in Qatar (SFS-Qatar) recently organized a luncheon seminar by Dr David A Thomas, Dean and William R Berkeley Chair of Georgetown University's McDonough School of Business in Washington, DC.
Dr Thomas presented his 'Five Insights on Leadership' to a select group of CEOs, government officials, and special guests that included the head of Doha Bank, Dr R Seetharaman, and Qatar's Minister of Communication and Information, Her Excellency Dr Hessa Al Jaber.
The event, the first in a series of lectures SFS-Qatar has planned for the benefit of the business community, was hosted by Doha Bank at their West Bay headquarters, and allowed the visiting dean, a thought leader in organizational behavior and strategic human resource management, a chance to share his extensive experience on issues related to leadership development and organizational transformation with the attending industry leaders.
A prolific author on the subject, Dr Thomas shared five prime insights as the framework for discussing the process of creating and strengthening a culture of effective leadership within an organization.
These included identifying, mentoring, and advancing future leaders early in their careers, understanding the functional difference between leadership and management in mobilizing leaders, the importance of critical self-awareness, the characteristics of transformational leaders, and organizational transformation through the efficient achievement of internal development goals.
To read the full article on Georgetown's website, please
click here
.