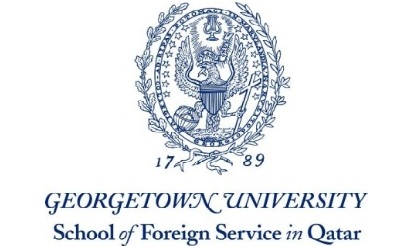 The recent expansion drive at Georgetown University – School of Foreign Service in Qatar (SFS-Qatar), which includes new faculty, new programs, and even more students, has brought renewed focus on the research initiatives faculty pursue inside and outside of the classroom.
"We're helping to build a strong, vibrant research culture in Doha," says Dr John Crist, the Director of Research at SFS-Qatar. "We're doing that by exploring a diverse range of issues that affect Qatar, the region and beyond, in the field of the humanities and the social sciences. We also look for ways to apply our research and scholarship to help meet local and global challenges."
Grants awarded to SFS-Qatar from the Qatar National Research Fund (QNRF) have funded a variety of projects, both independent and collaborative initiatives pursued by visiting and permanent faculty members. The total amount awarded to SFS-Qatar from QNRF totals over $6 million since Georgetown established a campus in Qatar.
One innovative SFS-Qatar research project with major practical applications in the social realm is the International Islamic Bioethics Information Resource Project, which for the first time, identified more than 1,500 writings on Islamic perspectives on health care issues such as genetics, organ transplantation, and reproductive technologies, in both English and Arabic.
QNRF funding for this project was through a three-year, $1,050,000 grant to the Bioethics Research Library (BRL) and the Georgetown Qatar Library (SFS-Qatar) to develop these information services.
The SPHERE Project, which stands for 'Science Productivity, Higher Education Development, and Knowledge Society', looks at the development of the world's research economies over the past 111 years, is led by a multi-national team from Qatar, the US, China, Germany, Japan, and Luxembourg.
Dr Crist notes the relevance of these cooperative relationships, saying: "We're embedded in this global network of top research institutions. Collaborative research brings diversity to the projects and positions Qatar on the international research map."
To read the full article on Georgetown's website, please click here:
http://qatar.sfs.georgetown.edu/416266.html#.Uk0r6FN6jto