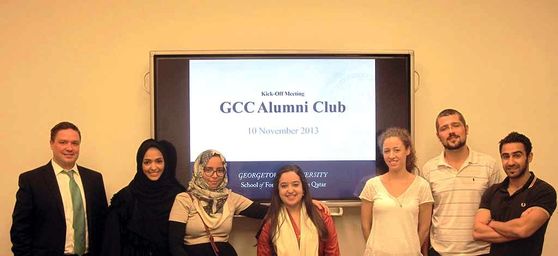 Georgetown University – School of Foreign Service in Qatar's newly formed Alumni Club of the GCC recently concluded elections for its executive committee, which officially sets in motion the organization's presence as the first ever region-wide alumni association.
Both the nominations for the positions, and the voting body, were open to any Georgetown University graduates working or living in the GCC.
Unlike the traditional alumni groups that serve the student needs of their city or country, the Alumni Club of the GCC has a far broader reach, representing several countries and graduates from both the Washington DC and Doha campuses. Founded in 1881, the Georgetown Alumni Association includes more than 160,000 alumni from all 50 states and more than 110 countries.
"Currently, we have 400 club members, of which about 150 graduated here, from Georgetown's Qatar Foundation campus," Said Charles Nailen, Alumni Relations Manager at Georgetown University – School of Foreign Service in Qatar (SFS-Qatar) and the main organizer of the alumni club's launch.
James Faulkner, who graduated from the Washington DC campus of Georgetown's School of Foreign Service in 2000, and currently works for Booz Allen Hamilton in Qatar, ran for president of the alumni organization in the recent election, which resulted in a tie. He is now co-president, sharing the position with SFS-Qatar alum Basil Mahfouz.
SFS-Qatar's alumni activities will continue breaking new ground in the region with the upcoming International Alumni Weekend event scheduled for 5-8 December, where Georgetown alumni and international club leaders from around the world will converge on Doha, the first time the separate groups meet at such an event, to share experiences and strengthen their alumni community.
To read the full article on Georgetown's website, please
click here
.