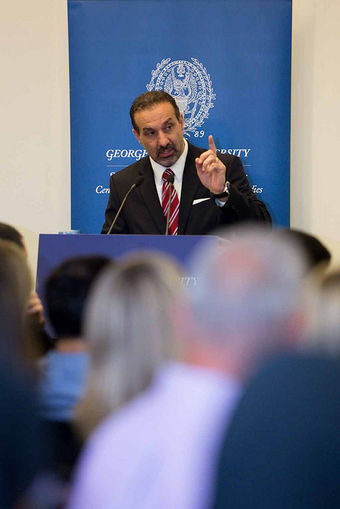 The Center for International and Regional Studies (CIRS) at Georgetown University – School of Foreign Service in Qatar (SFS-Q) recently hosted a public lecture titled 'From Revolution to Coup: Egypt and the Muslim Brotherhood', as a part of its Monthly Dialogue Series held on Qatar Foundation's campus.
In the lecture, Dr Al-Arian, an assistant professor of history at SFS-Q, traced the trajectory of the Muslim Brotherhood in Egypt over the last three decades leading up to the removal of President Hosni Mubarak from power.
"The tremendous global interest in these events is a testament to the importance of Egypt and the outcomes of the uprising." began Dr Al-Arian to an audience of students, faculty, and visitors from Qatar Foundation and the Doha community. "We know that whatever happens in Egypt has a tremendous impact on the Middle East, including having consequences on the outcomes of other uprisings in the region."
Despite the Brotherhood's 85 year history, the presentation focused on the context of the MB in a post-Sadat Egypt, where economic liberalization had given rise to an urbanized, professional, increasingly religiously devout middle class, that added to the ranks of the Muslim Brotherhood, in addition to the traditional rural base that constituted the bulk of their numbers prior to this period.
"This new support base still deferred the ideology of the MB to their foundational predecessors, but streamlined the modes of delivery of the MB to appeal to Egyptians in a time where we see a fragmented Islamic identity, and when there are many more competitors in the arena of groups identifying as 'Islamic', including the state itself." said Dr Al-Arian.
To read the full article on Georgetown's website, please
click here
.