After a season of intensive negotiations and quick thinking, Georgetown University in Qatar's student-run Debating Union walked away with multiple accolades in the recent Qatar Universities Debating League. The Georgetown team was awarded the title of national champion from organizer Qatar Debate, with team members also receiving best speaker medals for their performance in the league.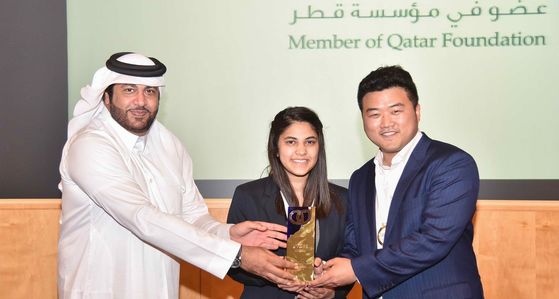 The Qatar Universities Debating League is open to students across Qatar, and teams from four universities made it through to the final rounds of the nationals competition. The champions were decided after a two-day intensive tournament, with GU-Q students Yoonsuk Choi (SFS'18) and Fatima Farooqui (SFS'21) competing against students from Qatar University, Weill Cornell Medical College in Qatar, and Carnegie Melon University in Qatar to take home the championship title.
For Choi, who has been debating since high school and represented his country in championships, the win stood out due to the support received from friends and fellow students as a member of the Georgetown team. "I really liked having the Georgetown name that we were representing at nationals, with four different universities at the grand final," said Choi. "We weren't the favorite to win, but we somehow pulled it off."
In addition to the team win, the students also placed in the top ten of the individual speaker ranks, with Choi and Farooqui taking second and sixth place in the overall league rankings and sixth and seventh in the nationals ranking respectively. Farooqui's achievement was a milestone for the GU-Q Debating Union, as she became the only first year student to win a university-level nationals tournament in the club's history.
The tournament was challenging, but Farooqui explained that she enjoyed the opportunity to argue her case against opponents. "Sometimes you have to talk against what you think is right," she explained. "The point is to be able to convey your point – even if you don't agree with it yourself – so I think I learnt a lot in that sense. It helps you in so many ways that you don't even imagine."
"You get to see different sides of an issue you never thought existed before," Choi added. "It's those skill sets that will be valuable later on. One thing that I really value is how to analyze something – how to make a convincing argument using all these links. That sort of mindset you can use on papers, you can use in interviews, when you are talking to your friends."
Over the course of the league, students debated complex topics ranging from political challenges and current affairs to philosophical and ethical conundrums. The annual competition sees students compete in four one-day sessions during the academic year, in addition to the grand final to decide the league and national winners.