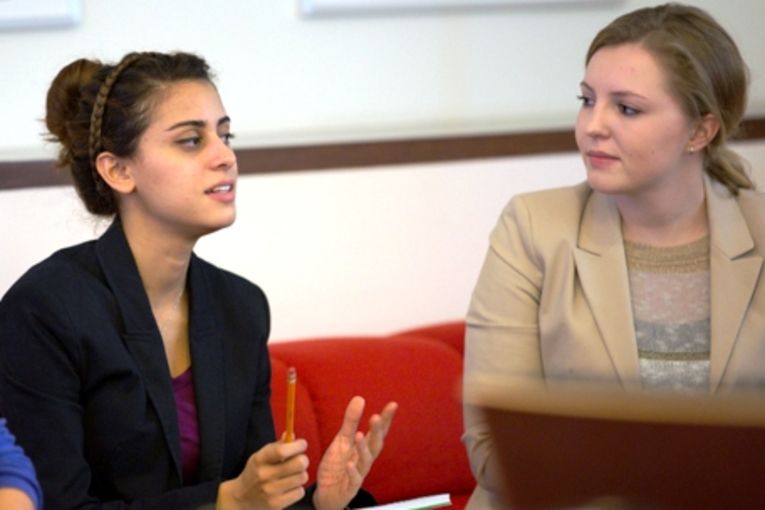 A research project called Doha by Design: Urban Planning and Social Space in Doha, Qatar, is underway by four Georgetown University – School of Foreign Service in Qatar (SFS-Qatar) students and their two faculty mentors.
The project, sponsored by a Qatar Foundation (QF) Undergraduate Research Experience Program (UREP) grant, analyzes Doha's use of planning and space, and the effects of those plans on social interaction.
The four student researchers are SFS-Qatar students Khadija Mahsud (Class of 2014), Nadia Al-Khater (Class of 2016), Catherine Lechicki (Class of 2016) and Sana Jamal (Class of 2016).
The students assert that there is well-documented quantitative data on urban development, but that no qualitative research exists. This is the information vacuum the student researchers seek to fill.
Al-Khater explained: "One of the most valuable experiences from the research process through UREP is making the step into the real world to collect data and being able to test hypotheses and draw conclusions on what we have been able to observe ourselves rather than sticking purely to data that people have reported in the past."
"We had to go through training and learn how to ethically undertake projects involving behavioral research," added Mahsud.
"The actual survey-giving experience requires patience and care. We learned how best to formulate surveys and how to approach potential survey takers. The project has also taught me a lot about the city of Doha, but also about urban space in general."
To read the full article on Georgetown's website, please
click here
.