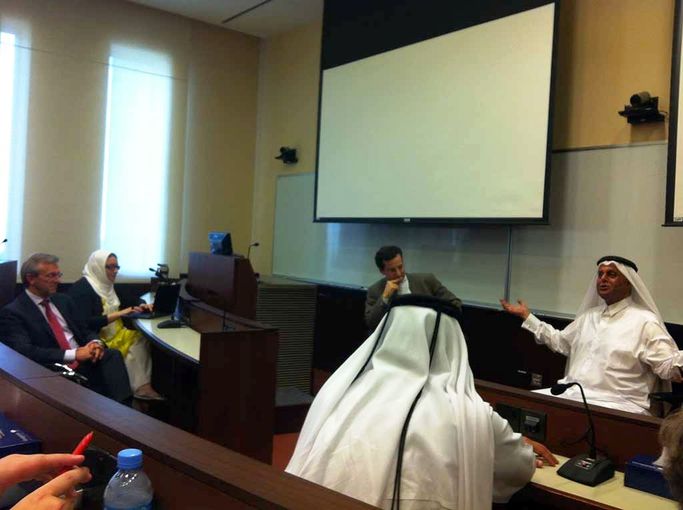 The President of the Administrative Control and Transparency Authority in Qatar, HE Abdullah bin Hamad al Attiyah, treated a classroom of students Georgetown University's School of Foreign Service in Qatar (SFS-Qatar) to a personal visit, where the Minister shared his insights in a lecture titled 'The Lebanese Republic Between the Past and the Present'.
Passing over the podium for the casual simplicity of a chair pulled close to the 25 students in attendance, the Minister and longtime Qatari politician considered the opening question:"The strength of Lebanon, that it is a melting pot, is also its weakness. So the very notion of a diversity that makes it vibrant also makes it susceptible to weakness. Do you see a pattern? What lessons do you draw from this experience of vulnerability and strength?"
Over the course of almost two hours, the Minister shared his deep insights into the interwoven fabric of Middle Eastern history which is particularly apparent in Lebanon. He detailed a picture of the forces that shaped its early history, rooted in the challenges presented by its diverse ethnic and religious population.
He recounted many personal experiences that demonstrated how, in a country where "political parties are a family business"; the knowledge of the tribal families and political leaders within each sect becomes an imperative aspect to understanding the complex landscape of Lebanese history.
To read the full article on Georgetown's website, please
click here
.