The Arab Engineering Bureau (AEB) presented the 2017 awards, for Design Excellence, and Creative Achievement and Potential, to five students from Virginia Commonwealth University in Qatar (VCUQatar) during a ceremony at the university recently.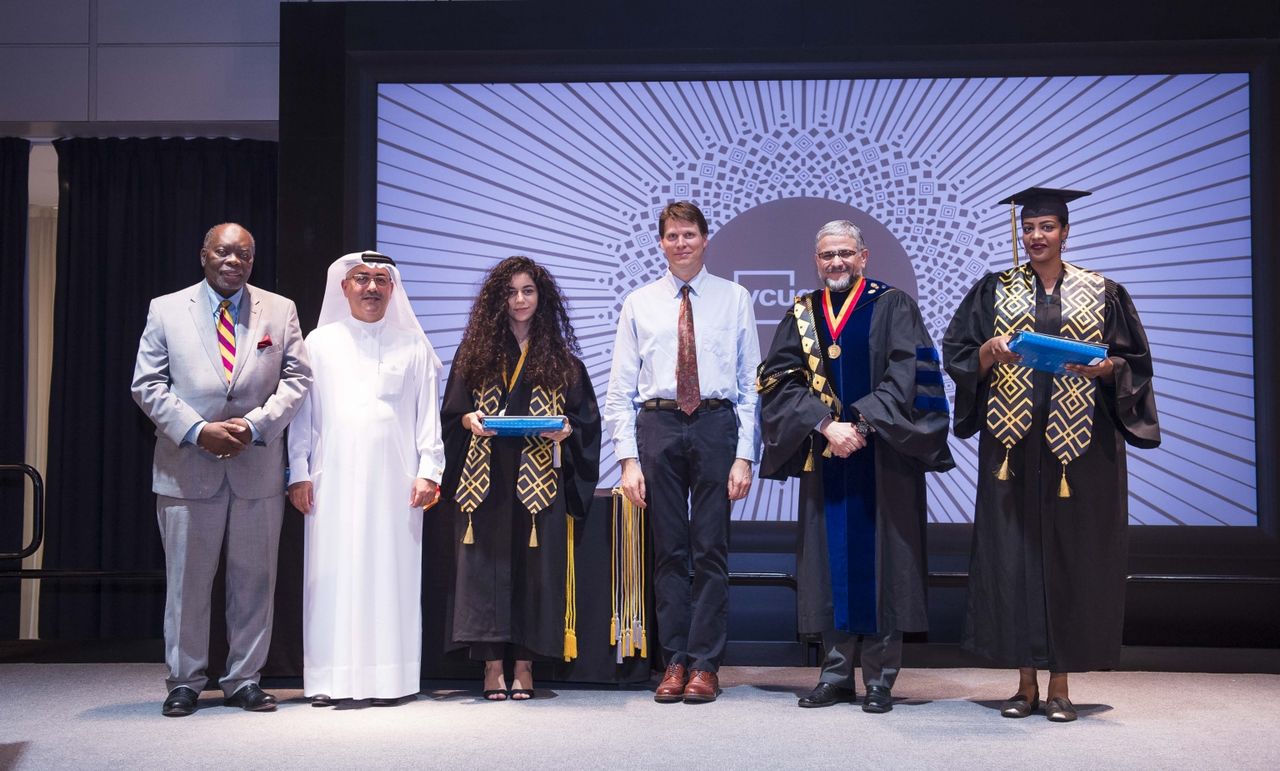 AEB's Group CEO and Chief Architect Ibrahim Mohamed Jaidah, a longtime supporter and friend of VCUQatar, presented the Arab Engineering Bureau Award for Design Excellence in Graphic Design to graduating student Eman O. Al-Jailay, and for Design Excellence in Interior Design to graduating student Majdullin Nasrallah.
The awards were instituted by Jaidah to encourage and assist graduating students as they start their careers as designers in Qatar and the region. Jaidah is recognized as a pioneer of a new architectural movement that combines the far-reaching influences of Islamic art with modern styles to create memorable landmark structures that are shaping Qatar.
"We are committed to national development and we are invested in supporting young and enthusiastic generations of designers from VCUQatar. Over the years VCUQatar graduates have proved to be at the forefront of the design industry in Qatar, and it is our absolute pleasure to be able to award such individuals for their hard work and help them kick start their careers. I must also commend the level of education offered at VCUQatar. Over the past 11 years I have had the pleasure of working closely with a number of strong students who came to us as interns, but also a number of graduates who have joined our team," said Ibrahim Mohamed Jaidah.
The Arab Engineering Bureau Award for Creative Achievement and Potential was presented to graphic design junior Amira Natsheh and interior design juniors AlJazi AlThani and Zeina Sleiman.
These awards aim to help the junior students recognize their true potential, create leadership and encourage them to continue developing their skills through their senior year.The awards are a major highlight of the academic year for VCUQatar's students.
VCUQatar's Dean Akel I. Kahera said the university was hugely grateful for the continued support from AEB over the past decade and added that the awards recognized the students' commitment to their future careers in what is a very competitive and demanding environment.
Besides the awards, AEB and Jaidah continue to partner with VCUQatar by offering internship opportunities to VCUQatar students.