20 year old Ahlam was born in Qatar with a congenital heart defect (CHD) known as Tetralogy of Fallot, this is a hole between the lower chambers of the heart and an obstruction between the heart and the lungs, with a defective pulmonic valve.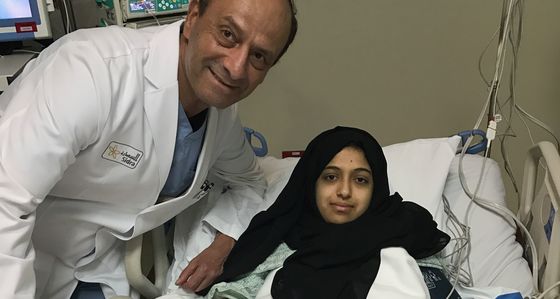 To treat her condition, Ahlam had to endure several procedures, including major open-heart surgery, as an infant.As she grew older, Ahlam experienced more complications including a leaky valve that resulted in a significant enlargement of her heart.
Ahlam was a patient at Hamad Medical Corporation (HMC), and in 2016 was transferred to a joint care program between HMC and Sidra Medical and Research Center (Sidra) under the supervision of Prof. Ziyad M. Hijazi, Chair of the Department of Pediatrics and Director of the Sidra Cardiac Program.
Six months after the operation and in support of World Heart Day - 29 September 2017 - Ahlam shares how her life has progressed and the small victories she gets to enjoy every day: "Given that I have been going to hospitals and for check-ups all my life, I was scared – thinking I would need another open-heart surgery!"
"I was keen to try this new procedure because of the medical complications that resulted from a surgery I had as a child. The complications made it quite difficult to do even simple tasks. The new procedure was fast and all it took was a small incision to insert the replacement valve."
Prof. Hijazi is an interventional cardiologist and pioneering specialist in treating congenital and structural heart disease in both children and adults. His major area of interest is in the development of techniques, catheters, devices and valves to help treat or cure congenital and structural cardiac disease without open-heart surgery.
Ahlam's operation took place at Hamad General Hospital and was performed jointly by Prof. Hijazi and Dr. Qi-Ling Cao from Sidra, and Dr. Hesham Al-Saloos, an interventional cardiologist from HMC. "Ahlam's operation was completed in just under three hours, requiring only three days recovery. She was happily out and about and came back to see me for a check-up within the week! It was truly remarkable!" continued Prof. Hijazi.
To read more, please click
here
.