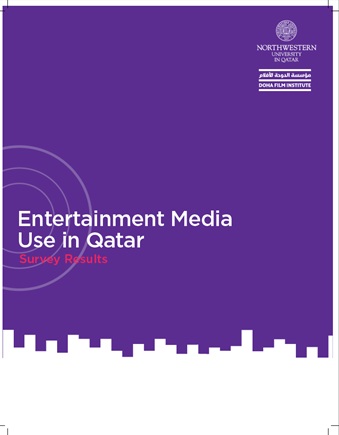 Media from across Qatar recently gathered at the Qatar Media Industries Forum to discuss findings of a first-of-its-kind survey on Entertainment Media Use in the Middle East.
Jointly overseen by NU-Q and Doha Film Institute, the media survey spanned six Arab nations; findings on Qatar specifically were in focus at the forum.
One of the most outstanding trends revealed by the survey was that Qatari nationals are less than half as likely as nationals of other countries studied to use Facebook. The survey also revealed that Qatar is unique to other Arab countries in that its residents express a strong interest in news as a mode of entertainment.
The survey also found that nearly half of Arabs watch American films, yet most want more regional content. This rang particularly true in Qatar, which has the highest percentage of nationals who agree that more should be done to preserve cultural traditions (survey average: 78 percent/ Qatar: 94 percent) and the lowest percentage of nationals who watch TV produced in their own country (survey average: 94 percent / Qatar: 51 percent).
The survey revealed another interesting trend: while print is broadly considered a dying medium around the world, in Qatar readers still have a rich appetite for newspapers and books—richer still than their neighbors in other Arab countries.
"When you travel abroad where outlets are mourning their print days, it is amazing to come back to Doha and see newspapers being sold on the main roads every morning," commented Mary Dedinksy, Director of NU-Q's journalism program. "The fact is that stories in Qatar break in the local Arabic newspapers, and audiences who want to stay up to date have to read them."
According to the findings, eight in 10 Qatar residents read newspapers regularly and half do so on a daily basis. Comparatively, two-thirds in the region (survey-wide) read newspapers, and only a quarter do so daily.
For the full story, please
click here
.