Georgetown University in Qatar (GU-Q) alumna Dana Al-Anzy (SFS'17) was one of 64 outstanding Qatari students and educators honored at the 2018 Education Excellence Awards. Al-Anzy received her award from His Highness the Emir, Sheikh Tamim bin Hamad Al-Thani, at a ceremony attended by ministers, heads of diplomatic missions, senior education officials, and parents of the winning students.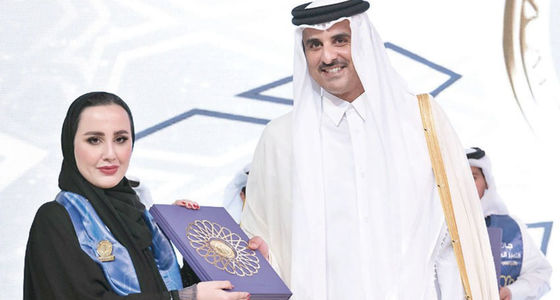 The annual Education Excellence Awards are an initiative of the Ministry of Education and Higher Education and are held under the patronage of the Emir. Al-Anzy was honored for her academic accomplishments at GU-Q and her involvement in the community with a gold award in the university student category.
​"We acknowledge the achievements of our students and graduates with great pride. This important award recognizes Dana's dedication, hard work, and commitment to community service, and is also a tribute to her excellence in education that our university alumni are known for," said GU-Q Dean Ahmad Dallal. "We look forward to the many great things Dana will accomplish in her career and for her country in the future."
The application process for the award was incredibly rigorous, requiring students to have excelled academically with a 95% average upon graduation and pass through an interview process in order to be selected.
"I won the award in 2013 for high school, so I understood the importance of the award for the community's development and the progression of Qatar 2030 vision, because it is the highest academic and intellectual recognition in the State of Qatar that is given by His Highness," explained Al-Anzy. "I think it is a statement of how important intellect and academic excellence is to the future of our nation and a promise by the awardees to serve and continue to thrive."
During her time at GU-Q, Al-Anzy became one of the first Qatari women to summit Mount Kilimanjaro, which she did in order to raise funds to build and renovate schools in Gaza as part of Reach out to Asia's 'Elevate to Educate' expedition. She also attended the 71st session of the United Nations General Assembly in New York as a youth advocate for Education Above All, promoting the right of access to education for children around the world. In her final year at GU-Q, she received the Culture & Politics Outstanding Student Award for her excellent performance in her major.