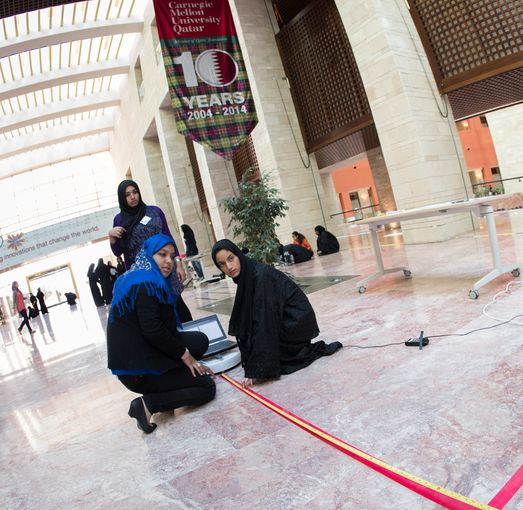 As more than 80 young women discovered this weekend, being a computer scientist means much more than staring at a monitor all day. In fact, computer scientists work hands-on on many of their projects, collaborate to solve problems, and can apply their knowledge to almost any discipline, from biological sciences to the arts.
The challenge, said Saquib Razak, an assistant teaching professor of computer science at Carnegie Mellon Qatar, is that many students aren't exposed to computer science in high school, which may put them off applying for the program in university.
That's why Carnegie Mellon introduced CS4Qatar for Women, a program that aims to get students excited about technology and introduce them to basic computer science concepts. Since females are underrepresented in the field, the program addresses common myths that might deter women from studying computer science at university.
"The main aim is to introduce students to computer science and let them experience it for themselves. Based on this, they can decide if this is something that they want to pursue as a future course of study. We want to make sure that their decision as to whether to pursue computer science is based on what they have experienced and not only on what they have heard," Razak said.
The students participated in workshops in cryptography and robotics led by Christos Kapoutsis, an assistant teaching professor, and Houda Bouamor, a postdoctoral research associate. In the robotics workshop, students worked in teams to write a sequence of basic commands—or algorithms—to move robots forward, backward, left or right in order to navigate a series of paths.
In the cryptology class, the students used a simple encryption technique to disguise a message. Once they discovered how easy it is to break this simple code, they learned some of the tools computer scientists use to make encryption more secure.
To read the full article on Carnegie Mellon's website, please
click here
.