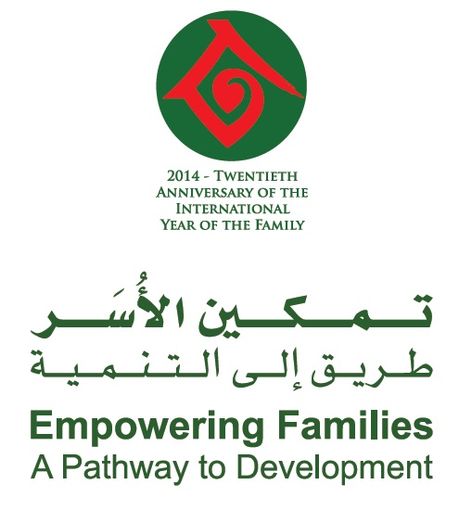 Under the patronage of Her Highness Sheikha Moza bint Nasser, Chairperson of Qatar Foundation, the Doha International Family Institute (DIFI) is organizing an international conference on families and their role in development. The conference will take place on 16 and 17 April 2014 at the Qatar National Convention Center (QNCC) under the theme Empowering Families: A Pathway to Development.
The primary goal of the conference is to highlight the contribution of families to the achievement of development goals. The "Doha Conference" will focus on the themes of confronting family poverty and social exclusion, ensuring work-family balance and advancing social integration and intergenerational solidarity. It will also discuss the role of family policies in the post 2015 development agenda.
The conference is expected to focus on family oriented policy frameworks capable of responding to the needs of families in different parts of the world, especially when considering the impact of the economic and financial crisis.
The conference will bring together policy makers, NGOs, experts, academics, and various key stakeholders on a global platform, to discuss how families can be empowered, revisit challenges faced by families worldwide and highlight the role of effective national family policies in promoting family wellbeing.
Commenting on the event, H.E. Noor Al Malki Al Jehani, Executive Director, DIFI, said, "The main objective behind the Doha Conference is focusing the world's attention on the mounting evidence that links empowering families and the achievement of development goals. The Doha Conference will explore how families can be strengthened and supported to fulfill their numerous functions and will call on governments to take action at the national level to improve the welfare of families and to integrate a family policy into national policy making."
The conference provides a platform for constructive discussion and exchange among all stakeholders on how to respond to the challenges facing families around the world. Good practices in family policies and new data on the situation of families in different parts of the world will be shared during the conference.
The conference will be organized in observance of the 20th anniversary of the International Year of the Family which was proclaimed by the United Nations in 1994 in recognition of the numerous contributions made by families to overall development efforts.
For more information about the conference, please visit:
http://www.difi.org.qa/conference-2014