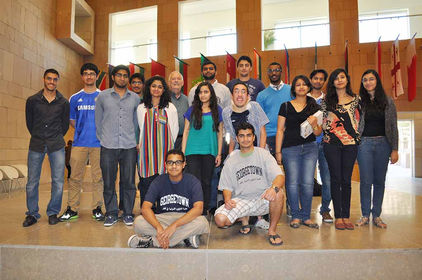 Amal, a new Georgetown University – School of Foreign Service in Qatar (SFS-Qatar) student-led group that promotes accessibility for those with special needs, recently welcomed students from Best Buddies Qatar to the Georgetown campus at Qatar Foundation (QF).
Under the theme Discover Ability, Amal and Best Buddies Qatar organized a day of painting, games and group discussions focused on the socialization, connection and integration of Best Buddies Qatar students. Best Buddies Qatar is a program within the Qatar Shafallah Centre for Children with Special Needs.
"Amal, in Arabic, means 'hope'," explained Sherif Elgindi (Class of 2016), a co-founder of the Georgetown group. Elgindi, who has dealt with accessibility issues, said: "I came up with the idea of creating Amal last semester. I want to change the social perception of people with special needs. I decided to launch Amal and our point is to help integrate people with special needs into society."
Partnered with another Georgetown group, Akhuwat-e-Awam, which is a student-led non-profit organization that focuses on providing education to the impoverished, the two clubs joined together to welcome Best Buddies Qatar students to Amal's first Discover Ability event.
Over 60 SFS-Qatar students have joined Amal, committing their time to integration, and also focusing on accessibility issues, for those with special needs.
The Shafallah Centre introduced Best Buddies to Qatar in 2008 as a pilot program under the initiative of Her Highness Sheikha Mozah bint Nasser. Best Buddies provides opportunities of socialization, training and career support for people with intellectual and developmental disabilities across Qatar.
Best Buddies is a non-profit organization originally established in 1989 by Anthony Kennedy Shriver at Georgetown University in Washington, DC. From that campus chapter it has grown over the years into an international organization with programs in sixty countries. The State of Qatar was the 40th country to establish a Best Buddies chapter.
To read the full article on Georgetown's website, please
click here
.