Carnegie Mellon University in Qatar (CMU-Q) awarded Fatma Tlili the Best Project award for her research into developing an automated process for detecting cracks and defects in concrete. Tlili was one of more than 50 researchers at the 2018 Meeting of the Minds symposium at CMU-Q.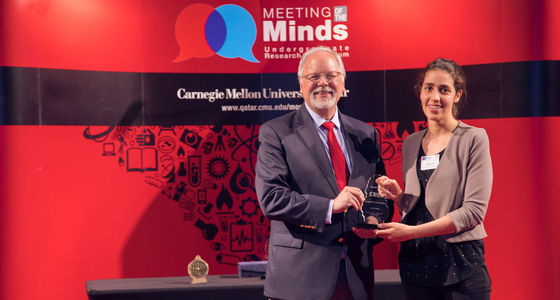 Tlili, who is a graduating senior from CMU-Q's Computer Science Program, used a combination of image processing and deep learning techniques to identify and map potential cracks using images taken by drones. Gianni Di Caro, associate teaching professor of computer science at CMU-Q, advised Tlili on her project.
Michael Trick, the dean of CMU-Q, said: "At Carnegie Mellon, we often describe our research as 'work that matters' and we investigate questions that will have a real impact on the world. Fatma's work embodies this approach, using deep learning to find a better way to preserve the integrity of buildings, tunnels and bridges."
A panel of expert judges assessed posters, provided feedback to the researchers, and determined the winners of the main awards. Second place went to Mohammad Osaama Bin Shehzad, who used bioinformatics to classify bacterial diversity in ballast water discharged by cargo ships in Qatar. Rounding out the top project awards was a study of road accidents and emergency services in the U.S. by Muhammad Ali Bashir and Umair Qazi. Latifa Khalid Al-Thani was recognized with the Best Poster award for her project to recreate virtually how visitors interact with museum artifacts.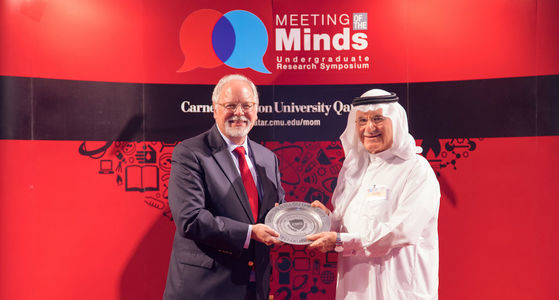 Qatar National Research Fund (QNRF) provided a panel of judges who selected projects in each of the areas of biological sciences, computer science and information systems. The senior program manager for ICT at QNRF, Dr. Munir Tag, presented the awards: "It was very difficult to make these selections, because these were all great projects from great students. QNRF is very proud to support these young researchers."
Dr. Barak Yehya, on behalf of the Ministry of Development Planning and Statistics, honored five projects that contributed to Qatar's future. "These five projects were judged on how aligned they are with the second National Development Strategy 2018-2022 of Qatar. All of the projects here today showed very valuable research, and all the students involved should be proud," said Dr. Yehya.
To read more, please click
here
.