As computer science becomes integral to more and more fields of study, Carnegie Mellon University in Qatar (CMU-Q) is reaching out to high schoolers to introduce them to the field. The Computer Science Program at CMU-Q has teamed up with Boeing to design and deliver the "Mindcraft" workshops, day-long sessions that guide students through computer science disciplines like robotics, cryptography, and computational thinking.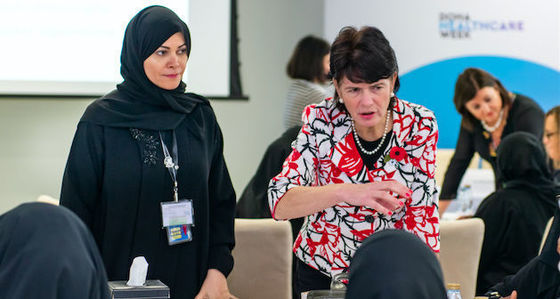 Leading the project is Khaled Harras, program director and associate professor of computer science at CMU-Q: "The National Vision 2030 is to transform Qatar into a knowledge-based economy; computer science knowledge is an unavoidable requirement to help materialize this vision. We have the goal of introducing 1000 high school students in Qatar to computer science over this academic year. We want to have a deep impact."
Since launching the program in September, 550 students have participated in the Saturday workshops taught by computer science faculty members, researchers and engineers.
"Boeing is proud to support programs that aim to inspire our next generation of leaders and innovators to pursue careers in STEM-related fields," said Maria Laine, vice president of International Strategic Partnerships for Boeing Defense, Space & Security. "Through this new initiative, students will have access to challenges and workshops that introduce them to a range of computer science material that can help give them the 21st century skills and knowledge they need to be successful long-term."
"Computing will be important to these students, no matter what they study in university; many advancements in other fields of science, engineering and even humanities have been further enabled with the integration of various computer science disciplines" remarked Harras.
Interested students can apply for Mindcraft at www.qatar.cmu.edu/future-students/workshops-events/mindcraft.
For the full story, please click
here
.