A team at Carnegie Mellon University in Qatar (CMU-Q), a Qatar Foundation (QF) partner university, has discovered a new area of research that could lead to more effective breast cancer treatment with fewer side effects.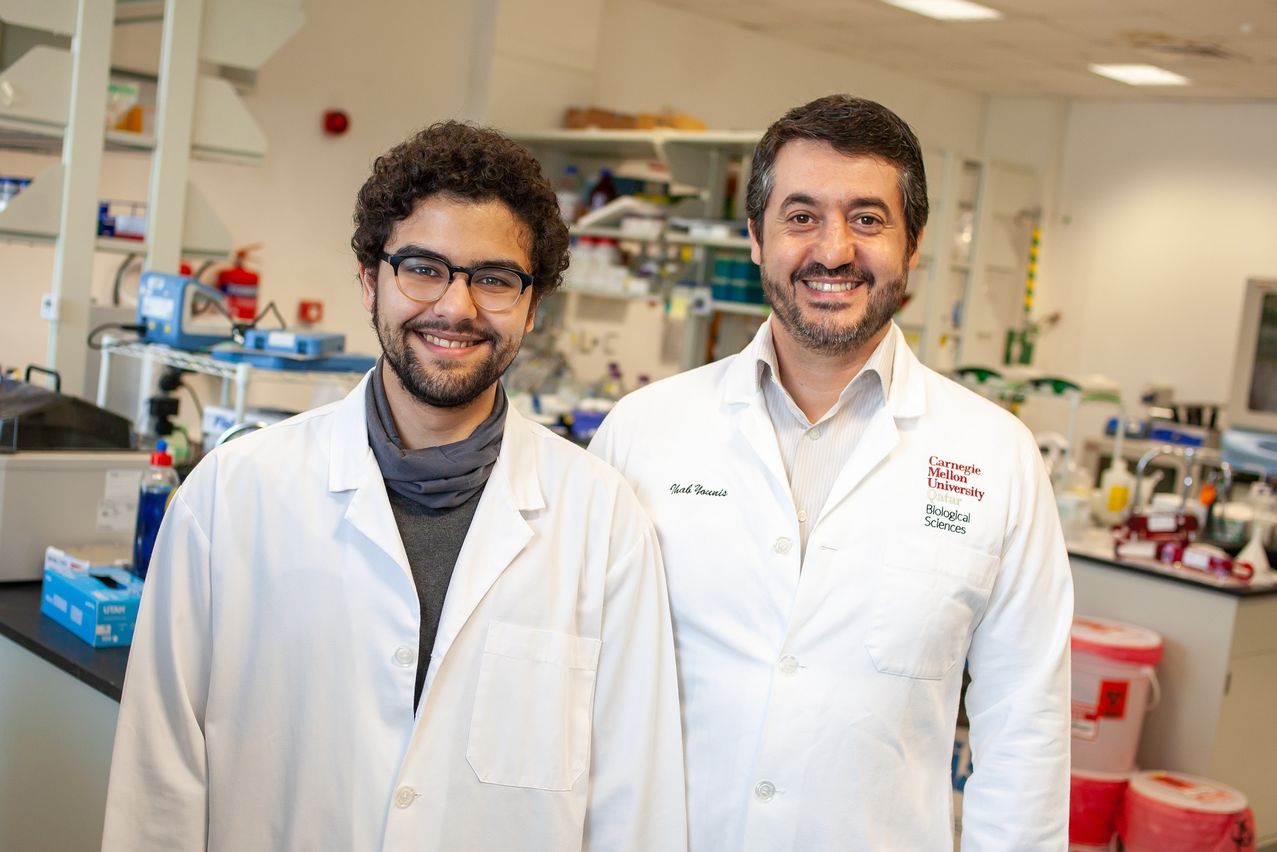 Ihab Younis, Assistant Professor of Biological Sciences, and Ettaib El Marabti, a 2017 graduate of CMU-Q's Biological Sciences Program, authored a paper in the scientific journal Frontiers in Molecular Biosciences titled: "The cancer spliceome: Reprogramming of alternative splicing in cancer."
The paper outlines how a cellular mechanism called splicing is different in cancer cells than in normal cells. The mechanism occurs as the cell translates the genetic code into the proteins it needs to function. In normal cells, splicing acts like a switch to turn on certain protein production, but this does not work properly in cancer cells. Younis and El Marabti believe that targeting cells with the faulty splicing mechanism could be one way to kill cancer cells while leaving healthy cells intact.
"We do not suggest the use of this type of therapy would replace traditional therapies," said Prof. Younis. "Rather, targeting the cells in this way would work in combination for more effective treatment with fewer unfavorable side effects."
Michael Trick, Dean of CMU-Q, said, "Carnegie Mellon as an institution is built on the belief that research should have an impact on people's lives. Ihab and Ettaib's research could have important implications in the treatment of breast cancer, as well as other types of cancers.
"We are interested to see how these findings improve the therapeutic options for doctors and the quality of life for patients who are undergoing treatment."
Upon joining the CMU-Q faculty in 2015, Prof. Younis asked his students to help him establish a research lab. El Marabti, then a third-year student, was tasked with analyzing the sequence of the genetic codes of normal and cancerous cells.
The project grew and, in 2017, El Marabti presented his findings at the Keystone Symposium on mRNA Processing and Human Disease in New Mexico, USA, as well as at CMU-Q's research symposium, 'Meeting of the Minds', where he took the top prize.
After his graduation from CMU-Q in 2017, El Marabti entered medical school at QF partner university Weill Cornell Medicine - Qatar. The paper in Frontiers in Molecular Biosciences was completed while he was a first-year medical student, and he intends to incorporate research into his career as a physician.
To read more, please click 
here