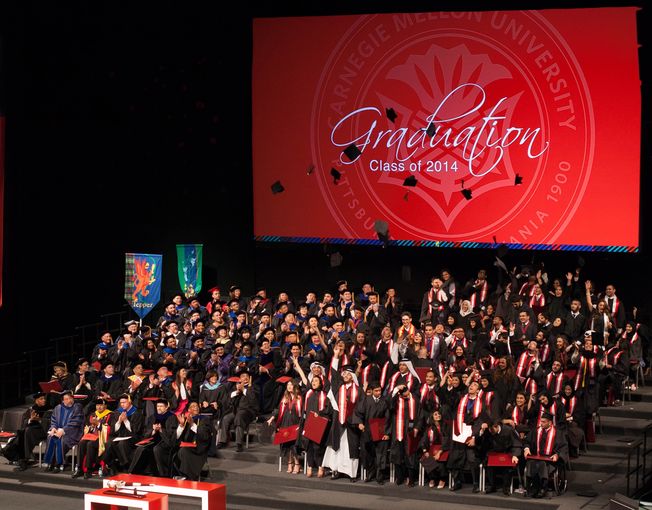 Carnegie Mellon University in Qatar celebrated its seventh graduation ceremony on Monday, 5 May 2014, bringing together dignitaries, family and faculty to recognize 80 graduates representing 24 different countries as they were awarded their diplomas.
As the sound of traditional Scottish bagpipes filled the Qatar National Convention Centre (QNCC), the graduates processed onto the stage, led by students carrying their programs' academic flag.
All 80 graduates—two in biological sciences, 42 in business administration, 10 in computer science and 26 in information systems—now form part of Carnegie Mellon's 95,000-strong global alumni network.
Addressing the graduating class, and more than 1,200 distinguished guests, family members and friends, Subra Suresh, president of Carnegie Mellon University, praised the graduates for their achievements: "You have achieved something important, something that took time, discipline and willingness to persist in the face of difficulties. That is impressive, so savor the moment."
Academic Achievement Awards were presented to three students based on their outstanding academic performance: Haider Zali, business administration graduate, Fahim Dalvi, computer science graduate, and Haya Thowfeek, information systems graduate, received the awards.
Narcis Sadat Jafarian, who received the 2014 Andrew Carnegie Society Scholar Award, and the Qatar Campus Scholars were also recognized during the ceremony. This year's Qatar Campus Scholars were Jafarian, a business administration graduate, Syed Moosavi, a computer science graduate, Zali and Thowfeek.
For the full story, please
click here
.