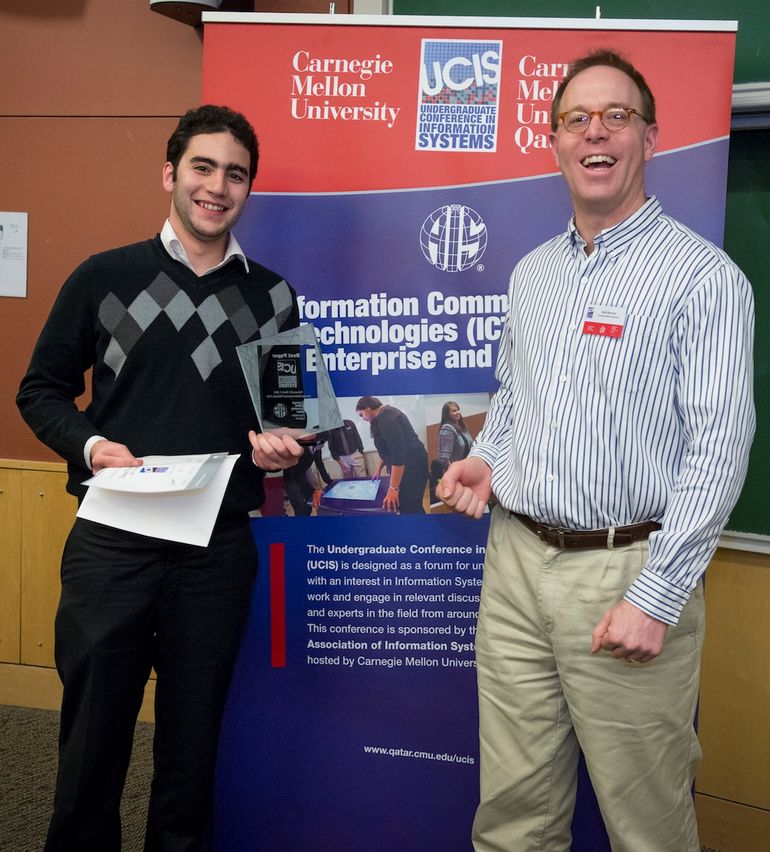 Carnegie Mellon University in Qatar co-hosted the fourth annual Undergraduate Conference in Information Systems alongside Carnegie Mellon University and the Qatar Association for Information Systems (AIS) chapter.
Attracting nearly 50 of the world's brightest students as well as internationally renowned experts, the conference highlighted how technology can be used to improve an organization's business models.
Commenced by Ilker Baybars, Dean and CEO of Carnegie Mellon University in Qatar, the conference was established at Carnegie Mellon Qatar in 2011 and was held on the Pittsburgh campus for the first time this year.
Daniel Cheweiky, an information systems student from Carnegie Mellon Qatar was awarded for the best paper, 'Evaluating the Use of Emerging Technologies in Education.'
Cheweiky's paper examined the use of Augmented Reality as an effective means of instruction in education. Instead of relying on traditional teaching methods such as lectures and textbooks, this emerging technology allows children to explore concepts like geometry by interacting with 3-D models on a computer or tablet.
Cheweiky elaborated on how advances in information communication technologies have not only changed the way companies and employees do business in the Middle East but also impacted the education sector in Qatar.
"Educational tools are changing rapidly, and this could be another step that will help take education to a different level that is fun and engaging for students. Further research could involve how can we localize Augmented Reality educational materials to suite a specific culture or region, such as Qatar and the Middle East," Cheweiky said.
Carnegie Mellon Qatar and Qatar Academy partnered in 2013 to pilot a program aimed at enhancing the way Modern Standard Arabic (MSA) is taught in primary schools through interactive technology. The project was funded by a Qatar National Research Fund grant in 2009 and aims to improve the way that MSA is taught in local schools.
For the full story, please
click here
.