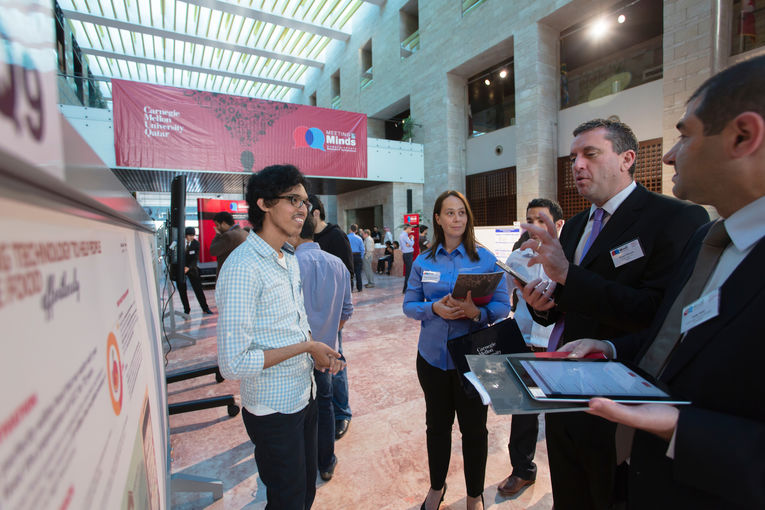 The 'Twitter Sentiment Analysis' project was awarded the best undergraduate research project at Carnegie Mellon University in Qatar's eighth annual research symposium 'Meeting of the Minds.'
The event, which took place on campus, gave undergraduate and graduate students an opportunity to present their research using posters, videos and visual aids to faculty, fellow students, family members and local industry experts.
Carnegie Mellon Qatar computer science students Rukhsar Neyaz and Sabih Bin Wasi took home both Best Poster and First Place for their research on 'Twitter Sentiment Analysis,' a first in Meeting of the Minds history. They were mentored by Behrang Mohit, assistant professor of computer science at Carnegie Mellon Qatar.
Second place also went to Sabin Bin Wasi, who completed the project 'Using Technology to Help People Save Food Effortlessly' with faculty advisor Thierry Sans, assistant teaching professor of computer science.
Third place went to 'SNV-check: A Quality Control Took for Familiar Exome Sequencing Data Based on the Sharing of Rare Genetic Mutations' by Noora Al-Muftah, computational biology student with faculty advisor Khalid A. Fakhro from Weill Cornell Medical College in Qatar.
Bin Wasi said: "Our system, 'Twitter Sentiment Analysis' helps decipher the sentiment of a tweet using an algorithm. For any brand in the world, there is value to knowing how a brand is performing and how people feel about a particular brand."
Moreover, he pointed out that "according to the 5th Arab Social Media Report, the total number of active Twitter users in the Arab world reached 3.7 million as of March 2013 producing approximately 5.5 million tweets per day."
Bin Wasi added: "There is a definite need for systems such as ours here in Qatar. For example, with the recent opening of the Hamad International Airport, this is a critical time to measure how people feel about it. It is simple for the organization to use, all you would have to do is insert the hashtag and the system would tell you how people feel about the airport.
For the full story, please
click here
.