A team of faculty and students from Carnegie Mellon University in Qatar recently introduced 'Alice Middle East,' a 3-D interactive educational animation software designed to help primary and secondary school students learn the basics of computer programming and teach them how to apply logical thinking and problem solving techniques.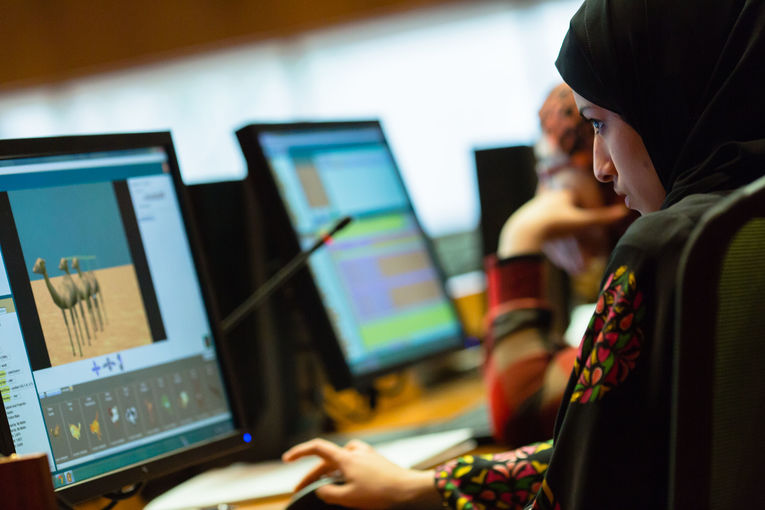 Her Highness Sheikha Moza Bint Nasser expressed a keen interest in 'Alice' in 2008, which prompted Carnegie Mellon faculty to explore the possibility of developing a version of Alice for the Middle East. Funded by the Qatar National Research Fund (QNRF) National Priorities Research Program, 'Alice Middle East' was first implemented in 2012 with an initial pilot program in Al-Arqam Academy, a private English-speaking school in Doha.
Since September 2014, computing is replacing ICT in UK primary schools, so that children can be introduced to computational thinking from an early age. Carnegie Mellon faculty have been taking the lead, by introducing Alice as a tool to engage students in computing and also by training teachers in Qatar's schools to implement and integrate the new curriculum.
In addition to supporting the new UK computing curriculum at Al-Arqam Academy, the Supreme Education Council (SEC) has piloted 'Alice Middle East' since September 2014 in two independent schools: Ali bin Abi-Talib Independent School (year 8) and Khalid bin Waleed Independent School (year 8).
The introduction of 'Alice' in independent SEC schools will help address a shortage of students in Qatar pursuing higher education in fields relating to computer science.
Carnegie Mellon faculty are also tracking the students' progress through in-depth analysis which will measure the impact 'Alice' has had upon their performance in fields such as computing, technology and math.
Alice was demonstrated to secondary school students this weekend during CS4Qatar for Women, an outreach program that aims to introduce young women to computer science and explore career possibilities in the field.
To experience 'Alice Middle East' please visit:
http://alice.qatar.cmu.edu
to download the program.
For the full story, please
click here
.