Weill Cornell Medical College in Qatar recently presented four outstanding Qatari research trainees with graduation awards for the annual Biomedical Research Training Program held at the Qatar Foundation campus.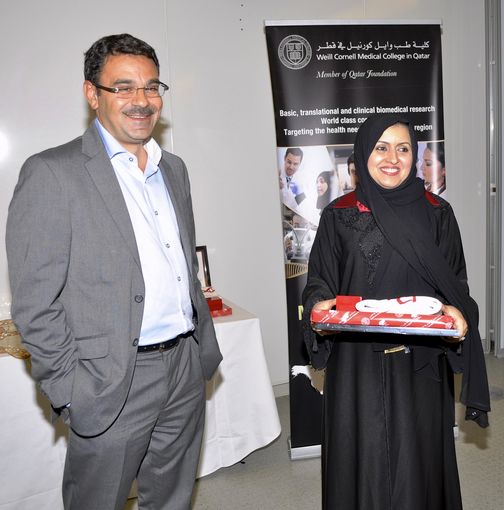 WCMC-Q Associate Dean for Research Professor Khaled Machaca presented Dr Najla Al-Haj, consultant clinical psychiatrist at Hamad Medical Corporation, Shaikha Al-Qahtani, Noor Faisal and Fatima Fakhroo with their certificates.
Professor Machaca said, "The reason for the success of this program is largely due to the high quality of the candidates and the trainees who spend six months with us. The goals of the program are simple. It takes people who are interested in biomedical research no matter how small it is, and exposes them to a broad spectrum of what research is all about – from being in the lab to administering research, to doing both basic and clinical research and to learn about what compliance is, what is involved in grants and contracts and how to manage them.
"This is an opportunity for young scientists to find their niche or that particular area of research where they are comfortable in and hopefully to build a career based on that," Professor Machaca said.
"The program is not aimed to train a large number of trainees, the program's goal is to train a small number of well-qualified trainees who will fit well into a research environment. The other very important goal of the program is to use it as a pipeline to be able to hire Qatari nationals within our research department who will stay with us for the long term."
The Biomedical Research Training Program is open to talented Qatari Nationals from all walks of science who as a minimum are recent university graduates interested in pursuing careers in biomedical research-related fields. It is a six-month training program from January to July that offers a stimulating experience to participants who seek to be actively involved in biomedical research projects in a challenging and knowledge-rewarding environment.
The training program consists of different aspects of research including laboratory training, writing and communication for research, biostatistics, clinical research, and research administration.
For the full story, please click here.