Awsaj Academy hosted its second workshop of the year this week in order to teach parents about bullying and how to help stop it. The training was prepared and presented by Mr Emad El Makahleh, a professional school counsellor at Awsaj Academy Elementary School.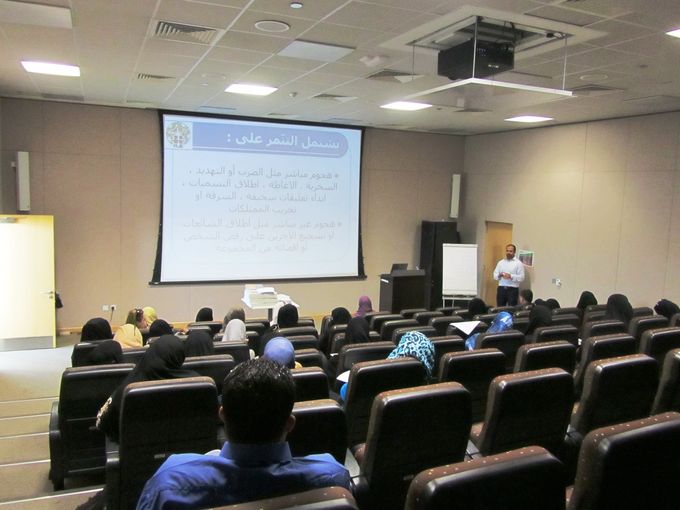 Participants at the workshop learned that bullying occurs when a person uses his or her physical or social power to abuse someone with apparently less power. Some warning signs were identified at the workshop that might indicate that a student is being bullied or is bullying other students. Participants learned the difference between joking and teasing, as well as some of the differences between the ways boys bully others compared to the way girls bully others. Parents were encouraged to have conversations with their children about bullying and were also given tools to help raise the issue of bullying with school administrators.
Awsaj Academy will be holding workshops every month to support parents regarding their children's special educational needs and help them increase their knowledge and understanding of those needs. Topics for future workshops include ADHD (Attention Deficit Hyperactivity Disorder), Anger Management, Assistive Technology, and Adolescence.
Awsaj Academy believes parental guidance and involvement is critical to a child's development, and has a significant impact on a student's academic and social achievement. It is part of the Academy's mission to reach out to parents, ensuring they have the information they need to support and benefit their children. Therefore, the Academy works to involve parents in activities such as workshops, support groups and volunteering activities. Parents who attend the workshops have found them very useful and have expressed a willingness to participate in future events.
Awsaj Academy is a member of Qatar Foundation for Education, Science and Community Development. It is a K-12 specialized school that addresses the needs of students with learning challenges, an outreach center that provides evaluation and professional development services to the community and a Centre for Education Research and Development that conducts and promotes education research and reform initiatives that benefit all students, including those with academic challenges.