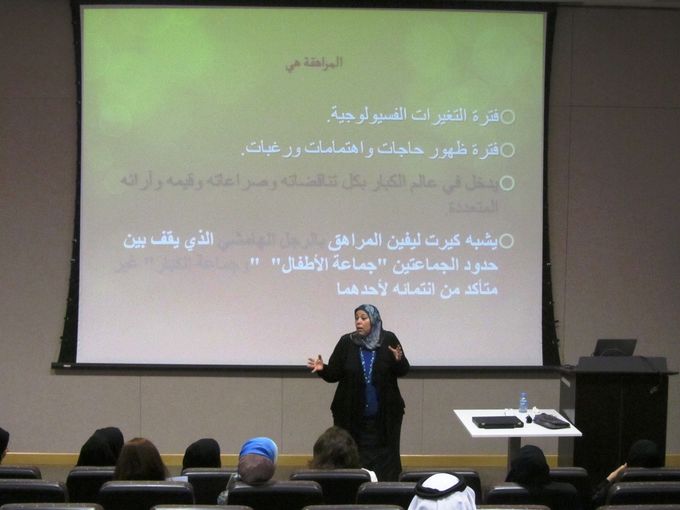 Awsaj Academy recently hosted its fourth workshop of the year, to teach parents about the stages of adolescence and how to help teenagers develop and thrive during these challenging years. The training was prepared and presented by Dr Batoul Khalifa, Associate Professor at QU's College of Education.
Participants at the workshop first learned what the stages of adolescence are, as well as some of the specific challenges that accompany each stage such as daydreaming, aggression, and misbehavior. Dr Khalifa identified several unhelpful but common parenting practices to avoid. She addressed the question of whether negative consequences are appropriate for use with teenagers, as well as how to use positive reinforcement. She also taught strategies for helping adolescents manage their anger. Finally, she described a parenting skills program that teaches parents how to help their children develop self-help skills and positive behavior.
A series of workshops is running every month at Awsaj Academy in order to help parents increase their knowledge and understanding of their children's special educational needs. Upcoming workshops include ADHD (Attention Deficit Hyperactivity Disorder), Anger Management, and Assistive Technology.
Awsaj Academy believes parental guidance and involvement is critical to a child's development, and has a significant impact on a student's academic and social achievement. It is part of the Academy's mission to reach out to parents, ensuring they have the information they need to support and benefit their children. Therefore, the Academy works to involve parents in activities such as workshops, support groups, and volunteering activities. Parents who have attended the workshops have found them to be very useful and have expressed a willingness to participate in future events.
Awsaj Academy is a member of Qatar Foundation for Education, Science and Community Development. It is a K-12 specialized school that addresses the needs of students with learning challenges, an outreach center that provides evaluation and professional development services to the community and a Centre for Education Research and Development that conducts and promotes education research and reform initiatives that benefit all students, including those with academic challenges.