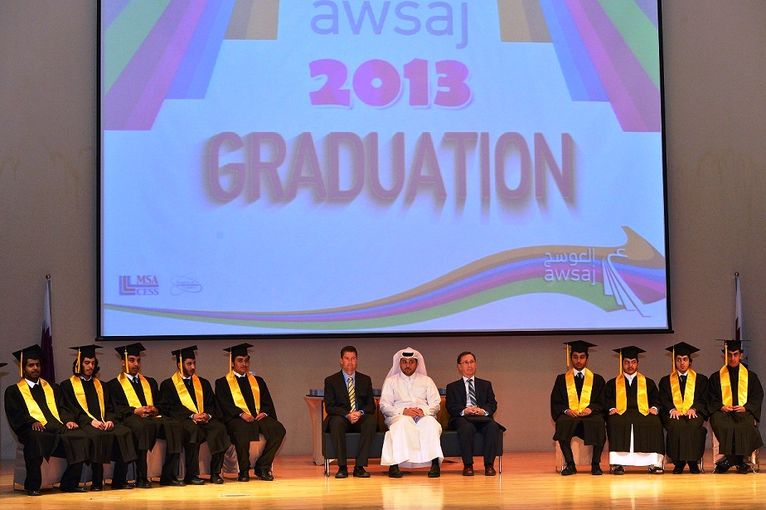 Ten graduates recently received their diplomas from Awsaj Academy, representing yet another milestone as the institution marked its eighth graduation ceremony.
The event was held on Wednesday 5 June 2013 at the auditorium of Awsaj Academy, part of Qatar Foundation. It was attended by parents, students, staff and several distinguished guests.
The pre-ceremony featured a musical piece performed by Marasi, a band from Qatar Music Academy, whose prowess mesmerized the audience. The ceremony then officially began with the Qatari National Anthem followed by the reciting of the Holy Qur'an by graduating seniors Abdulla Bahzad and Fahad Al Naimi.
During this year's graduation the CEO of ORYX GTL, Mr Abdulrahman Al-Suwaidy, recognized one of Awsaj Academy's graduates for his outstanding achievements. Senior Ghanim Al Solaiti was awarded a scholarship from ORYX GTL covering the cost of up to four years of university or college tuition.
Dr Don Francis, Awsaj Academy high school Principal, encouraged the graduates to be responsible citizens. "Make tomorrow unforgettable," he implored. "Plan ahead, stick with your plan regardless of the challenges, and live your dreams."
Diplomas and gifts were awarded to Jassim AbdulRahman Al Thani, Aisha Abdulla Al Thani, AbdulHameed Tareq Al Emadi, AbdulRahman Hassan Al Derham, Abdulla Faisal Bahzad, Ghanim Ali Al Solaitti, Fahad Hassan Al Naimi, Faisal Abdulla Al Dafaa, Mohamed Hamad Al Thani, and Nayef Fahad Al Thani.
This year's graduates plan to continue their studies at colleges and universities in Qatar, the UK, Canada and the United States.
Awsaj Academy is a member of Qatar Foundation that serves students with learning challenges in grades K-12. Students are served in small classrooms with no more than 10 students.Teachers use evidence based instructional practices to meet the individual needs of students with additional support provided as needed.
For the full story, please click here.