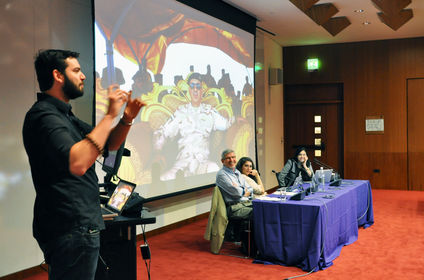 Journalists inside the Muslim world can debunk popular stereotypes about Islam by reporting untold stories to global audiences, experts told students at Northwestern University in Qatar (NU-Q).
NU-Q hosted the three award-winning journalists from the Pulitzer Center on Crisis Reporting for a speaker series about covering the Muslim world for international audiences.
The accomplished journalists included Alia Malek, a Syrian-American and author of
A Country Called Amreeka: US History Retold through Arab American Lives
, Ayman Oghanna, an award-winning Iraqi-British photojournalist and Habiba Nosheen, a Pakistani-Canadian multimedia journalist whose documentary,
Outlawed in Pakistan
, aired on PBS Frontline earlier this year.
The reporters stressed to students the importance of reclaiming media portrayal of Muslims and Islam. "As budding journalists from diverse backgrounds my advice to you is to banish stereotypes and show global audiences what they do not expect to see in a foreign land," said Oghanna. "Find contradictions and things we have not seen before because no one is more qualified to do that than you, here in the region."
Commenting on the 2.1 million views recorded the night her documentary aired in the US, Nosheen said, "That's a huge number [of viewers] for a foreign language documentary with subtitles, which challenged the perceptions we had of what Americans were willing to sit through."
Tom Hundley, a veteran foreign correspondent and senior editor at the Pulitzer Center, accompanied the journalists who spent five days on campus guest lecturing and leading workshops and seminars.
Malek, Oghanna and Nosheen are currently engaged in projects funded by the Pulitzer Center and have been published in the
New York Times
,
Al Jazeera
,
the Economist
and
PBS
on issues affecting hotspots in the Muslim world including Syria, Iraq and Pakistan.
To read the full article on Northwestern's website, please
click here
.