Qatar Foundation's Annual Research Conference (ARC'14) is calling on the local science and research community to help address Qatar's Grand Challenges by participating at the milestone event next month.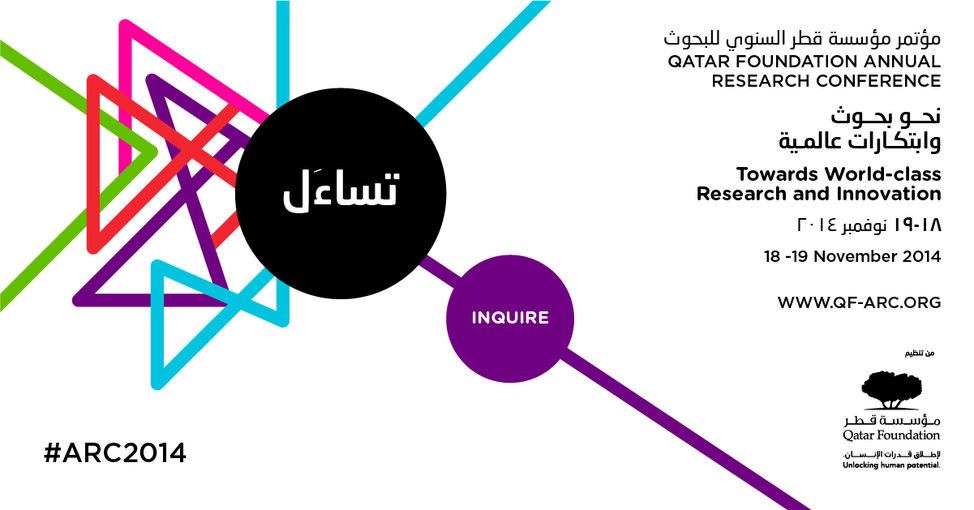 With less than a month before the conference, held under the patronage of Her Highness Sheikha Moza bint Nasser, Chairperson of Qatar Foundation (QF), organizers are looking forward to many local experts joining international peers for the two-day event.
The conference, will bring together expertise from Qatar and Qatar Foundation's Research and Development (QF R&D) key entities, in addition to international subject matter experts, to address the country's cyber security, solar and renewable energy solutions, integrated healthcare and social grand challenges.
Registration for the 18-19 November event can be made via
http://www.qf-arc.org
/.
Hosted at QF's Qatar National Convention Centre (QNCC), this year's conference follows on the success of ARC'13, which was attended by more than 2,000 delegates and where many of Qatar's research grand challenges were unveiled.
For more information about ARC'14 or to register, please visit:
http://www.qf-arc.org
/.
For the full story, please
click here
.