Qatar Foundation's Annual Research Conference (ARC'14) has revealed a 13 percent increase in scientific abstracts submissions; a record number for the flagship annual event.
The two-day conference, taking place on 18 and 19 November at the Qatar National Convention Centre (QNCC), is held under the patronage of Her Highness Sheikha Moza bint Nasser, Chairperson of Qatar Foundation.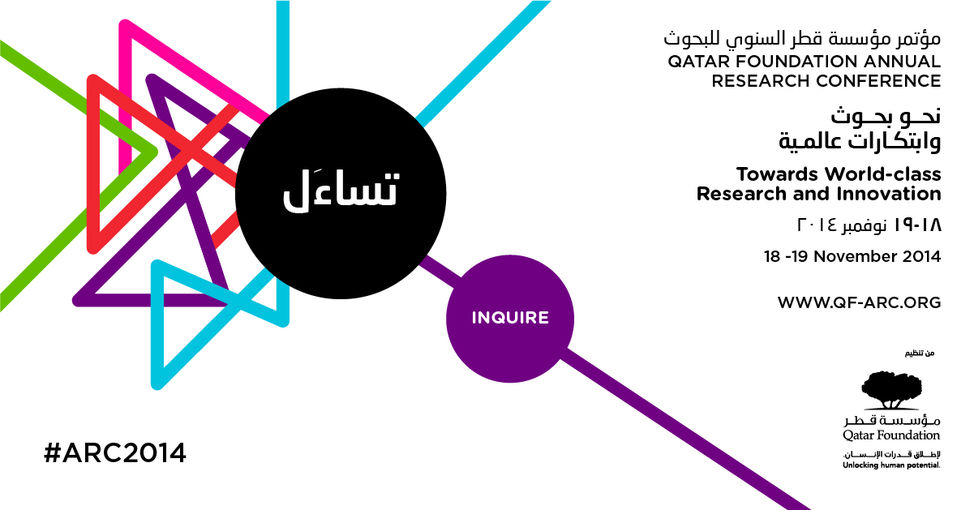 Qatar Foundation Research and Development's (QF R&D) Qatar National Research Fund (QNRF) undertook peer reviews for almost 1,200 abstracts. The evaluation process was based on a strict set of criteria, including research quality, originality and merit, relevance to Qatar and relevance to Qatar's Grand Challenges – water, energy, cyber security and integrated healthcare.
Shortlisted contenders for the best research presentation award will deliver their high-quality presentations to the local and international science community.
The annual research conference is regarded as the premier scientific research conference in Qatar, hosted by QF R&D.
Next month's conference follows on the success of ARC'13, which was attended by more than 2,000 delegates and where Qatar's research Grand Challenges were unveiled. Additionally, more than 1,000 scientific abstracts were received, of which close to 450 abstracts were accepted for poster presentations.The authors of around 50 delivered oral presentations on their research.
For more information about ARC'14 or to register, please visit:
http://www.qf-arc.org
/.
For the full story, please
click here
.