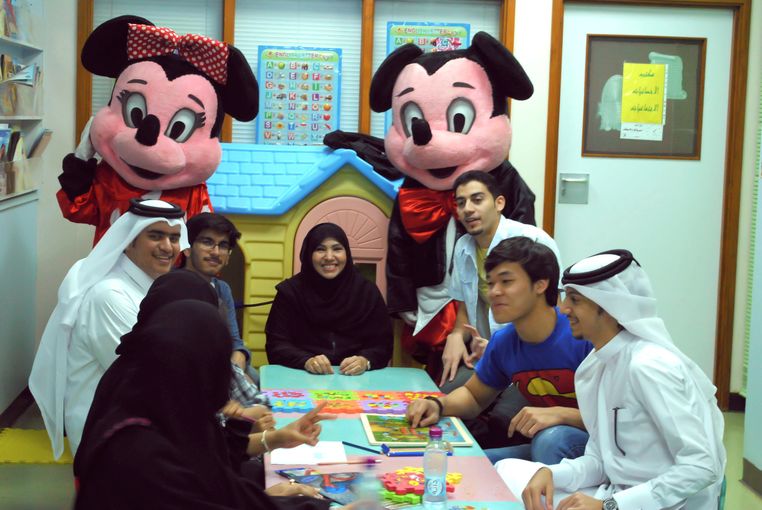 Students attending Qatar Foundation's Academic Bridge Program made a number of recent visits to sick children in Hamad Medical Hospital, in Doha. The participating students are all members of the ABP's Social Services and Volunteering Club.
The visits were organized by the ABP's Assistant Director for Student Services - Ms Moza Al Boainain, and Student Services Officer, Mr Abdulla Kart.
"The Academic Bridge Program (ABP) Social Services and Volunteering Club strives to develop a broader sense of community awareness among students.The aim is to help students to be more responsible about the community they live in," said Ms Moza Al Boainain.
The ABP students brought coloring books, colored markers and toys to give to the sick children as gifts.They were also given a tour of the Children's Ward and they met some doctors and nurses who explained to the students about their professions.
Many of the participating students are interested in studying medicine after they graduate from the ABP and were invited to shadow the doctors at Hamad Medical Hospital as they went on their rounds in the Children's Ward.
The aim of the ABP's Social Services Volunteer Club is to get students involved in their local community. For example, last year student members ran another campaign to help provide winter clothes and some hygiene items to migrant laborers in Doha. The ABP students designed posters and arranged a charity sale to collect donations from the ABP family. The students then bought the items with the funds and distributed these them among the workers in different parts of Doha.
For the full story, please
click here
.