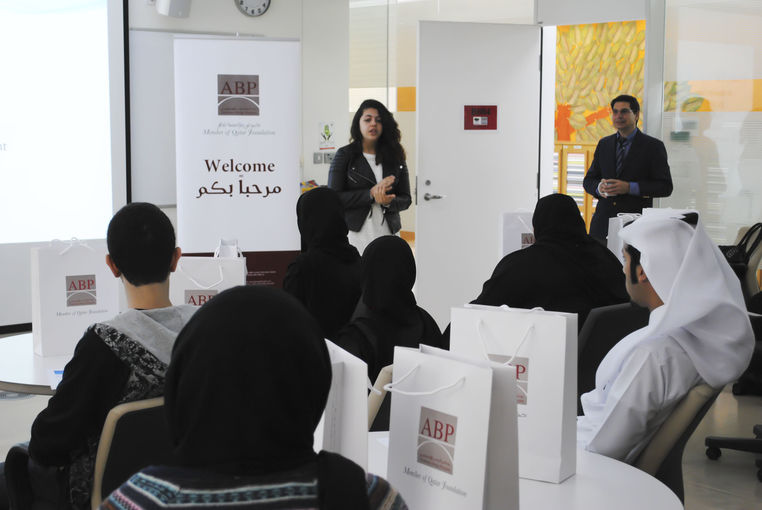 Around 26 newly admitted students joined the Academic Bridge Program (ABP), a center of Qatar Foundation (QF), for this spring semester. The new students attended a two hour orientation program this Monday 6 January in the ABP's LAS building at QF's campus to learn about ABP policies and procedures and meet ABP administrators and faculty members before they started classes the following day (7 January).
At the very start of the orientation, ABP Director, Dr Miles Lovelace welcomed the students to the 'ABP family' and briefed them about the program.
He concluded by emphasizing that "Qatar Foundation and Her Highness Sheikha Moza bint Nasser created the ABP to help you [the student] prepare for university admission" and that the ABP has had 12 years of great success in preparing generations of students for top ranking English-speaking universities.
Then Assistant Director of Student Services, Ms Moza Al Boainain introduced the Student Association and the Student Services department listing the many student clubs available (such as music, robotics, photography, Model United Nations, newsletter, social services and volunteering, computer, science, creative writing and football) as well as the various activities and events the department organizes.
In the past 12 years, the ABP has graduated over 2500 students, 90 percent of whom have been Qataris. Most have been successful at the ABP and have entered universities. This year there will be approximately 195 students starting the spring semester, 25 percent of whom are boys and 75 percent are girls. About 80 percent of this class is from Qatar and 20 percent are from other countries.
As a center of Qatar Foundation, the Academic Bridge Program enrolls new students twice yearly. The majority of ABP students enroll during the fall semester which starts in August. A limited number of students are accepted in semester two (spring semester). Students enrolling for the spring semester start classes in January.
For the full story, please
click here
.