Students from Qatar Foundation's Academic Bridge Program (ABP) celebrated National Day with traditional dances, modern technology, some poetry, and a sea of burgundy flags.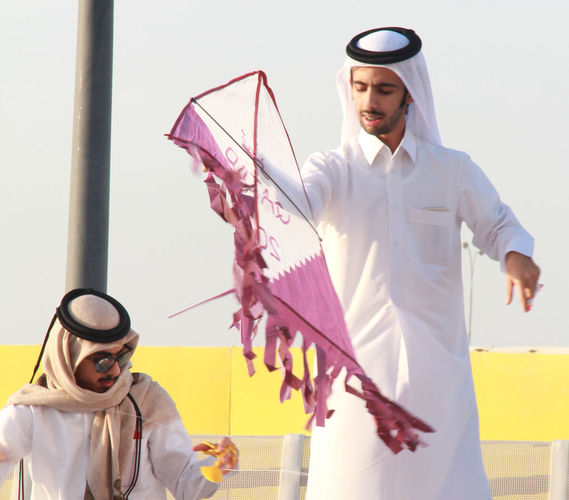 The ABP held the event early so that students could celebrate this important occasion and express their patriotism before they begin semester examinations on 10 December.Students begin winter break on 16 December 2014.
The celebrations started with an introductory welcome by ABP student Ibtisam Al-Kuwari followed by Quran recitation from ABP students Jaber Al Tamimi.
Then, Ms. Moza Al Boainain, ABP Assistant Director for Student Services, began her comments by extending warm congratulations and blessings, on behalf of the Academic Bridge Program, to His Highness the Emir of Qatar, Sheikh Tamim Bin Hamad Al Thani, to His Highness The Father Amir,Sheikh Hamad Bin Khalifa Al Thani and the Qatari people on the occasion of the National Day of their beloved country, Qatar.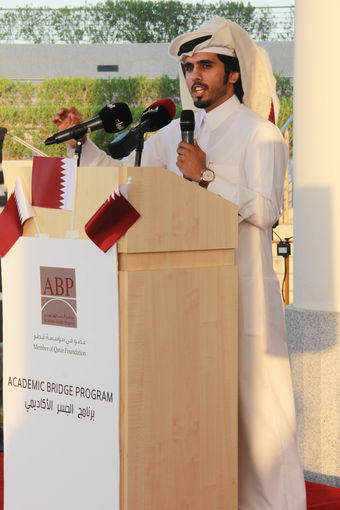 Ms. Moza then went on to request that, "God Almighty perpetuate the blessing of safety, security, splendor and well-being and that God protect the Emir of Qatar, and perpetuate the grace of health and wellness on him."
She continued, "We will be able to achieve our national goals insha' Allah because the leadership and people work together in harmony and cooperation.We are aware of our local, Arab, Islamic and international responsibilities since the time of Sheikh Jassim, the founder, who started a bright era for the State of Qatar."
New this year was a live Twitter feed displayed on a huge monitor. It allowed students to interact with one another during the event. They could tweet messages of congratulations and pass along best wishes to others whether they were in attendance or following online. Such technology allowed more individuals to participate directly in the celebration.
For the full story, please
click here
.